As of 2021, surveys indicate that 73% of students would prefer to take courses entirely online post-pandemic. Moreover, eLearning improves knowledge retention by 25%-60%, while traditional learning methods provide only 8%-10% retention.
Technology has been taking over the education industry for many years and after the pandemic, EdTech solutions and eLearning models are being welcomed as the future of education.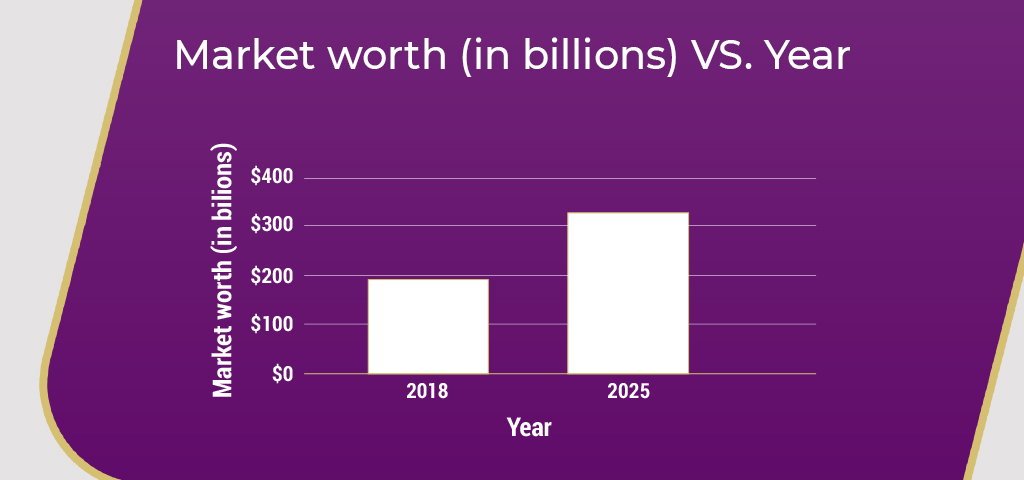 With a 900% growth since 2000, the eLearning industry is expected to reach an astounding figure of $325 billion by 2025, making it increasingly prosperous for EdTech start-ups.
The convenience of remote learning, ease of use, and effective knowledge retention of eLearning are compelling institutes, universities, and businesses to find new and improved ways to deliver courses and training programs. That's where educational apps come to play.
Top 10 educational apps in 2021:
Ted
Duolingo
Coursera
Remind
Photomath
Khan Academy
Evernote
Google Classroom
EdX
The global eLearning app market is projected to grow by $46 billion between 2020-2024.
eLearning mobile apps can provide personalised and captivating content cost-effectively while keeping the traditional methods alive through online classrooms and live webinars. And with the right features, your educational app can deliver impeccable learning experiences.
Types of eLearning Apps:
From full-fledged Learning Management Systems to educational apps for specific purposes, there are countless ideas for types of eLearning Apps. To name a few:
Private Tutor App
Student Performance Tracking App
Educational App for Differently Abled Students
Augmented Reality Based Educational App
Comic/Animation Based Educational App
eBook or Audiobook App
Competitive Exam Preparation App
Educational App for Career Guidance
Educational App for Sports and PE
Educational Games and Quizzes App
Language eLearning App
Vocabulary and Writing App
Preschool eLearning App
Student/Teacher Community App
Here at Communication Crafts, as a leading and trusted company for app development and EdTech solutions, we're frequently asked questions like:
–What features should an educational app have?
–What are the features of eLearning?
–What are the best features of online classes?
–What are the top things to consider in eLearning mobile app development?
–What is the best way to create an educational app?
In this article, we'll delve deeper and answer these queries by discussing the must-have features for a successful eLearning app.
Must-Have Features for a Successful eLearning App:
1.Effective Content Management System (CMS)
The main feature of an eLearning mobile app is a wide variety of quality content. Without interesting and engaging content, your eLearning app will fail to deliver the desired results.
Digital learning offers endless possibilities and the following content features can improve your users' learning experience remarkably.
-Multiple content formats: Offering education or training in the conventional ways with only text format makes the learning process tedious and monotonous for the users.
Utilising other formats like audio and video can help learners retain information with ease. Other formats of learning content include podcasts, video guides, recordings of previous webinars, and more.
Incorporating other content formats makes the learning experience much more captivating for the users and unlocks the true potential of an eLearning app.
-Offline support: Offline support content makes your eLearning app more accessible and portable. This feature enables your users to download the required content and access it whenever they like without worrying about internet connectivity, laggy loading speed, or low batteries.
Never let your users miss out on learning by integrating offline support in your eLearning app.
-Micro-learning: Gen Z has an average attention span of 8 seconds, which is lesser than a Goldfish. Considering this, lengthy sessions may prove to be detrimental to the outcome.
You should incorporate micro-learning features in your eLearning app development. Information given out in smaller packets results in better knowledge retention and works effectively in keeping the learners attentive and interested.
-Real-time learning support: The live experience felt in conventional classrooms can be integrated as a real-time feature in your eLearning app. With active question/answer sessions, online classes can easily provide better guidance and a lively learning experience.
Learners can use personal teaching sessions, live webinars, chats and Q/A portals to acquire an overall better quality of education with instructors or teachers solving their doubts and queries in real-time.
-Limitless learning: One of the most significant features of eLearning is the unlimited sources of knowledge and information via the internet. You must incorporate this feature to enhance your content and avail the full benefits of eLearning.
2.Assessment Features:
Assessment and evaluation through exams, tests and quizzes are an integral part of education.
This feature enables the instructors and learners to be aware of their progression and gaps in knowledge, and recognize the parts of the subject where the learner needs extra guidance or help.
Tests and quizzes are a must-have feature to create an educational app. They can be of various formats like multiple choice questions, fill-in-the-blanks, essays, time-sensitive tests, and more.
Students are always looking for sample question papers, tests and quizzes to practise for exams, and your eLearning app can offer that as well. Self-assessment techniques provide the learners with the confidence required for acing real-world competitive examinations.
3.Individualised learning:
One of the major drawbacks of traditional learning methods is having the same lesson plan for the whole class of students, which is very ill-suited and unproductive. By tending to the individual needs and preferences of the learners, your eLearning mobile app can enhance user experience and ultimately provide optimum results.
By adding features like feedback and surveys in your eLearning app development, you can monitor your users' needs and learning patterns to construct custom content that resonates well with your audience.
4.Games:
The future of eLearning lies in Gamification. This is one of the most effective and captivating eLearning features and advantages. This feature introduces fun and immersive approach to the learning process.
Gamification is the technique of incorporating game-like features in the learning process. Students are already fascinated by games, and embedding the same feeling into their education can make them feel more engaged and interested, minimizing distractions and maximizing focus.
Features like leaderboards, winning badges, point systems, difficulty levels, milestones and more creates a positive competitive environment where students feel more rewarded after completing lessons with gratifying results. For example, Duolingo is a successful language-learning app that lets you compete with your friends and get points and rewards after completion.
Game-based learning techniques like puzzles, matching games, and custom educational board games can also be implemented in the learning process to make it more diverse and fun.
5. Push notifications: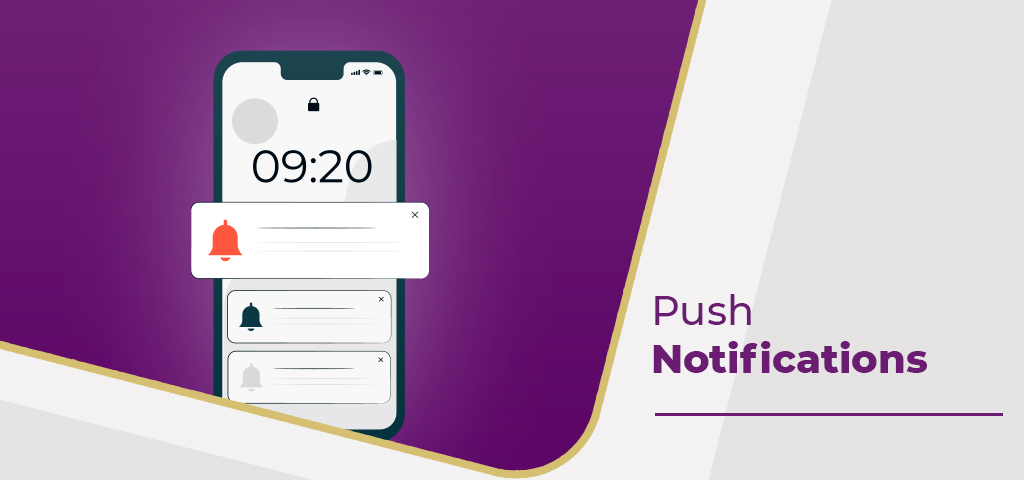 With push notifications, you can connect and interact with your audience and effectively keep them updated about their relevant courses or training programs.
Push notifications are a much more appealing option when compared to constant messages or emails. It provides your users with a gentle nudge to take the desired actions.
Updates, alerts, invitations, offers, and suggestions, there are endless types of information that you can conveniently convey through push notifications. Personalized messages in your users' notification bars can make them feel valued by your services.
Examples of push notifications:
Send a suggestion for a relevant or related course after course completion;
Recommend a test or quiz after a chapter or topic is completed;
Comment them with congratulations when they pass a test or a quiz;
Send them reminders for upcoming tests or exams;
Send intriguing messages to invite them back when users don't use the eLearning app for several days;
Send offers and discounts for paid courses whenever available;
Recommend specific instructors or reference books for selected courses.
6. Secure and adequate payment portals: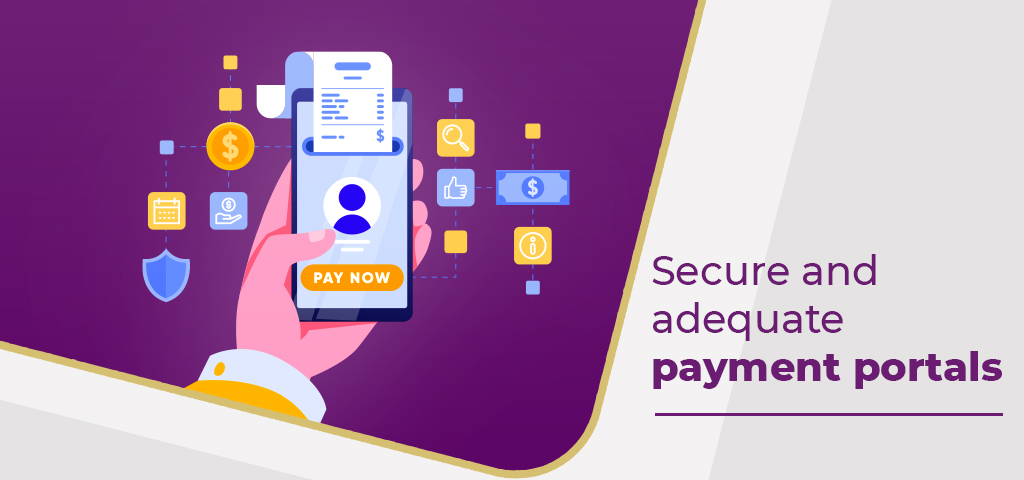 eLearning apps may be more cost effective than traditional education methods, but it still needs convenient payment methods to satisfy your audience. Payment options should be favorable to the location of your targeted audience to easily facilitate paid courses and instructors.
Diverse payment options like PayPal, different types of debit and credit cards, bank transfers, and net banking, enhance the user experience by providing more flexibility.
Finances are always sensitive and prone to malicious activities, that's why the features of online learning websites or apps must include reliable and secure payment gateways. Avoiding problematic or dubious transactions can boost brand loyalty and keep your brand's reputation intact.
7.Customer Relationship Management (CRM):
Integrating CRM features in your education mobile app development is one of the most indispensable eLearning features and advantages to maximize customer satisfaction.
It monitors customer behavior and content interaction along with their personal information like addresses, emails, names, social media, and phone numbers. This feature helps you address and solve your audience's issues and cater to their specific needs and preferences with ease.
With effective CRM features, you can anticipate your customers' needs in advance and provide better communication, which ultimately leads to maximum customer satisfaction and retention.
8.Reliable content and database:
Building a helpful database for your users is a significant feature of your eLearning app development. It boosts your educational app's credibility and eliminates the need to search for sources and study materials from outside the app.
Storing the added courses' reference e-books, assignments, and other study materials in the educational app's database can lead to a rich and diverse platform for all kinds of resources, helping your students gain quality knowledge with ease.
It can provide various essays, projects, data, surveys, statistics, and more to avail unlimited information for your users unified in one platform. Continuous updates are also possible digitally to offer the latest information regarding selected sources and subjects.
9. Seamless user interface and log-in:
To create an educational app that is both customer-centric and productive, a seamless user interface and login are imperative.
Ease of navigation and login pleases the customers and compels them to stay. Adding an attractive color scheme, distinct buttons, and simple and clear navigation in your eLearning app development makes the learning process more appealing and easier.
Along with a clear and smooth user interface, the account creation and login process should also be uncomplicated, requiring only the mandatory details. Simplicity and ease of use go a long way when it comes to educational app development.
10. Social media integration:
Social media networking plays an indispensable role in the popularity and success of any eLearning app. Social media platforms like Instagram, Twitter, Facebook, etc. provide a way to engage and connect with your existing users and simultaneously reach potential targeted customers.
You can use social media content to promote the courses, training programs, subjects, and topics available in your eLearning app. Platforms like YouTube can be used to post tutorial or explainer videos for your users.
It maximizes the reach of your eLearning app and allows your users/learners to communicate and collaborate around the globe.
Final thoughts
With many benefits like personalized learning, remote learning, and gamification, eLearning apps are being preferred by teachers and students alike. eLearning apps can improve the learning experience by making it more captivating, simpler, and accessible to everyone.
Creating a platform for education is a great responsibility, and delivering the best and most effective methods and features should be your utmost priority. By implementing these top 10 features mentioned above, you can create a perfect learning environment for your users.
High quality and diverse eLearning content provide the students with adequate resources and assessment features to prepare them for upcoming tests and exams; Individualised learning tends to every student's personal needs and preferences; Gamification features can captivate their minds and enhance the learning experience; Seamless user interface, reliable database, effective CRM features, and secure payment gateways can uplift user experience; Push notifications and social media can help you connect better with your audience.
All in all, these features can help you create a high-functioning eLearning app that resonates well with your audience and delivers excellent learning experiences.
If you wish to create an educational app or require maintenance in an existing one, contact us!
Communication Crafts is an experience-led app development company that offers bespoke EdTech solutions to satisfy your customers and reach your desired goals efficiently.
Our EdTech expert can build a robust and cost-effective eLearning app that attracts new customers, engages your users, exhibits all the important features, and more.
eLearning is the future of education, and we make sure it stays bright!