Educational apps are unequivocally the future of EdTech and education.
Surveys suggest that 73% of students prefer online courses in a post-pandemic era. Additionally, eLearning enhances knowledge retention by 25%-60%, while students only retain 8%-10% of knowledge through conventional learning methods.
Growth of eLearning:
This rapid growth of EdTech and eLearning solutions is turning heads all over the world, and EdTech start-ups are flourishing now more than ever. This is the reason why many companies are looking for new and unique eLearning methods.
This is where educational mobile apps for students comes into play!
The educational app market is expected to grow by an astonishing figure of $46 billion between 2020-2024.
The benefits of mobile apps in education make them a significant and impactful part of EdTech.
Let's discuss further.
Examples of Mobile Apps in Education
Here are some of the best Android educational apps and iOS educational apps:
Duolingo
Remind
Kahoot!
edX
Photomath
Udemy
Duolingo
Duolingo is one of the most comprehensive and effective language learning platforms in 2023, available for both iOS and Android. This online learning mobile app uses gamification techniques to simplify the strenuous task of learning a new language. It is free and available in 30+ languages.
Remind
Remind is one of the mobile apps for education that facilitates active communication between teachers, students and parents. This app for Android and iOS can be used to send reminders regarding assignment deadlines, home works, upcoming exams or tests and other classroom activities. This educational app can be used to send messages to an entire class or individual students.
Kahoot!
Kahoot administers quizzes with game-based learning elements for teaching various topics in a fun and interactive way. You can play with 2000+ online contestants where the quiz is displayed on a big screen and the students can answer them via iOS and Android smartphones. This technique makes the students feel extremely satisfied when they get the right answers.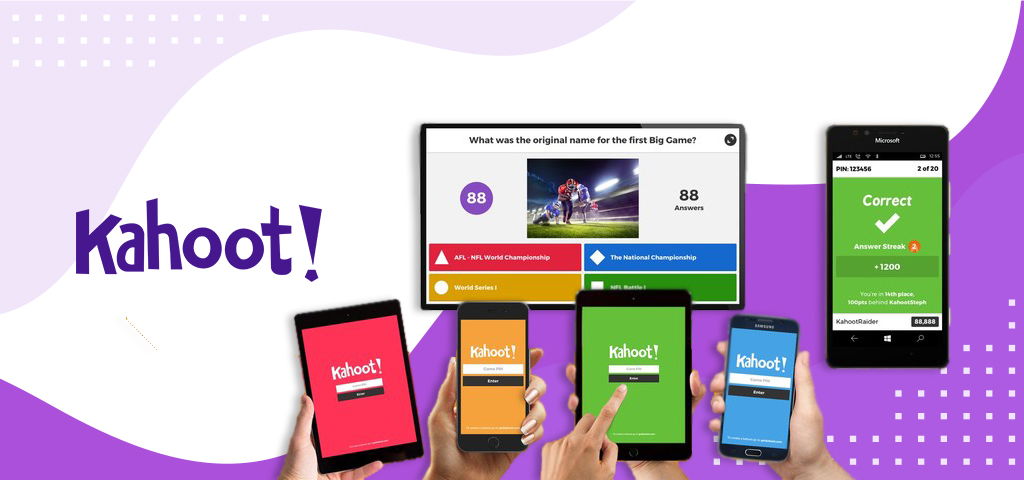 edX
Available on Google Play Store, edX helps students achieve the dream of attending ivy league colleges. This app does not provide actual degrees from colleges, but it offers an opportunity to gain knowledge from actual college lectures and video tutorials. It has more than 2000 courses from top universities and colleges spanning various subjects and topics for free.
Photomath
Mathematics has always been a complex and hard-to-grasp subject for many students. Photomath attempts to solve this issue by providing an interactive platform to learn and understand mathematics. This educational app uses a unique method: It lets you scan the written or printed math problem and provides a step-by-step explanation with animated instructions and interactive graphs.
Udemy
Udemy is one of the best and most effective mobile apps for education. This educational app offers more than 130,000 video tutorials for 32,000 courses. The topics and subjects can range from business and technology to personal development. With paid and free online classes and tutorials from expert instructors, Udemy delivers an interactive and effective learning experience.
Let's find the answer to the question "How do mobile apps benefit the educational sector?"
Perks & Benefits of Mobile Apps in Education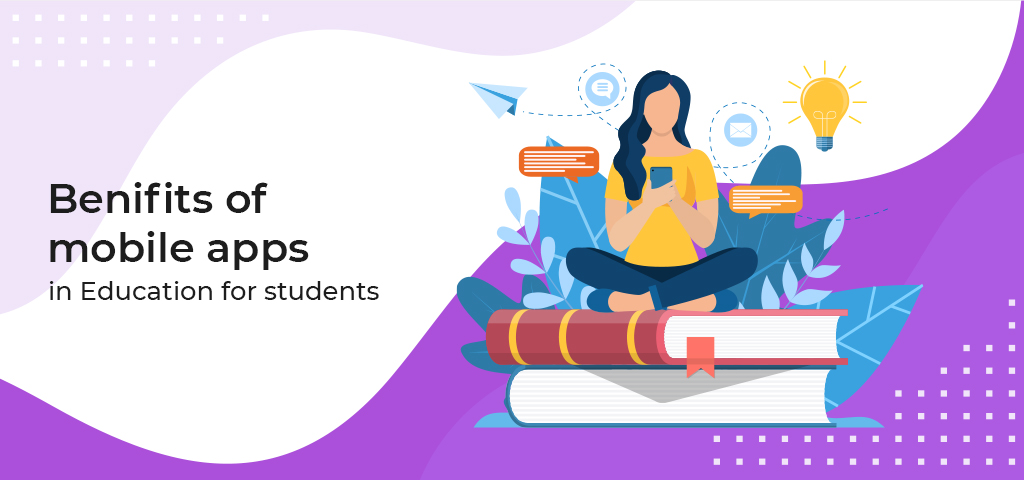 Interactive Modern Learning Techniques
Parent-Teacher-Student Communication
Miscellaneous Tasks
Unlimited Online Learning
Systematic & Personalized Learning
Multimedia Learning
Sustainable Learning with Reduced Costs
Mobile apps in education can deliver learning experiences that were previously impossible to achieve through traditional learning methods. Let's examine further.
Interactive Modern Learning Techniques
This is one of the most significant benefits of mobile apps in education. Educational mobile apps for students integrated with next-gen technologies like Augmented Reality can help them perceive intangible topics and concepts like Quantum Physics, Chemistry, Astronomy, etc.
For example: Skymap is an app that uses the phone camera integrated with AR to display the precise location of stars, planets, constellations, etc. for Astronomy students.
MoleculAR is an app for iOS and Android that teaches organic chemistry using AR technology.
AR educational apps can also be used as a safe and immersive environment to train professionals like healthcare workers and pilots.
Some educational apps like Duolingo and Kahoot! (mentioned above) delivers interactive and engaging learning experiences with the help of gamification techniques and game-based learning.
Click here to learn more about the benefits of Game-Based Learning.
Parent-Teacher-Student Communication
Educational apps can effectively enhance the communication between parents and teachers, providing deeper insight into their children's education and learning experiences. Teachers and parents can easily discuss gaps in knowledge of the students and how to ameliorate them. This is one of the most valuable benefits of mobile apps in education.
The communication between students and teachers also improves with educational mobile apps for students. Real-time performance assessment lets the instructor know the parts where each student needs help.
The students can also communicate the teachers and students from all around the world, facilitating a learning community to discuss different learning methods, concepts, topics, etc.
This active communicative environment enhances the overall learning and teaching experience for everyone involved.
Miscellaneous Tasks
Various mundane and simple tasks like fee payments, attendance management, grading papers, participation monitoring, etc. can easily be automated and handled via educational apps.
Most of these tasks are time-consuming if done manually, educational apps can be used to utilise this time to conduct classes.
Unlimited Online Learning
Students can choose the time and place for learning without any restrictions, and that's why they love online learning mobile apps.
Along with 24×7 availability of learning, educational apps provide the students with limitless course materials, e-books, video tutorials, etc. They have access to the entire internet for knowledge, letting the students refer back to the learning materials anytime they want for revision or any other purpose.
The sheer flexibility and versatility of eLearning through educational apps are unparalleled in the new age of teaching and learning.
Systematic & Personalized Learning
First of all, educational mobile apps for students provide a unified platform to access all the learning materials for a course or subject. From e-books and quizzes to video tutorials and webinars, everything can be found in one place, which is a significant boon for students and teachers alike.
Moreover, traditional learning methods have a huge flaw. Every school and institution tends to follow a similar pattern of teaching, making it quite monotonous for students. Also, this method is ill-suited for many students as every individual has a different pace of learning and require individual attention to achieve optimum results.
Educational apps can resolve this issue with ease. Artificial Intelligence can be integrated for monitoring the knowledge gaps and learning pace of individual students to form a customized and personalized learning experience for each student.
This can be achieved even without AI, the instructors or teachers can track real-time performance assessment via educational app to develop a course structure that delivers comfortable learning experiences for everyone.
Multimedia Learning
This is also a significant benefit of mobile apps in education. Learning through only textual information provides the least knowledge retention.
Different media options for learning creates a versatile and engaging environment for learning. Learning through videos and images helps students retain maximum knowledge in a fun and immersive way.
Sustainable Learning with Reduced Costs
First of all, eLearning with educational mobile apps for students eliminates the need for physical books. The students don't need to carry heavy books, not to mention the trees saved in this process.
Secondly, educational apps minimize the resources required for teaching and learning. Along with the reduction in the cost of buying physical books, educational apps can also eliminate the need to pay for classrooms. The same level of effectiveness can be achieved through remote learning.
High-quality education is not limited to only rich individuals anymore, anyone can access courses from top-notch instructors and institutions using educational apps.
With mobile apps in education, all a student needs is enthusiasm for learning, a smartphone and an internet connection.
Benefits of Mobile Apps in Education for Students
Engaging and interactive learning with multimedia options
Immersive learning techniques with AR and gamification
Quizzes and tests for enhancing and polishing difficult concepts
24×7 access to knowledge and learning
Limitless access to learning materials via the internet
Virtual classrooms, webinars and video tutorials
Remote learning
Enhanced communication with teachers
Benefits of Mobile Apps in Education for Teachers
Branding and marketing of schools and institutions through educational apps
Interactive and engaging school activities and events
Enhanced communication with parents of the students
Real-time performance assessment for an improved teaching experience
Providing reminders to students for upcoming assignment deadlines and exams
Integrating AI and chatbots to automate mundane tasks like grading papers, taking attendance, solving queries instantaneously, and more.
Eliminates paperwork
Deliver unique and personalized learning experiences for students
Benefits of Mobile Apps in Education for Parents
Easy communication with school administration and teachers
Understand the student's knowledge gaps and provide additional help at home
Online fee payments
Monitor and track class schedules
Summing Up
With significant benefits like personalized learning, gamification, and modern learning techniques, online learning mobile apps are being welcomed by teachers and students alike. Educational mobile apps can enhance the learning experience by making it more engaging, simplified, systematized, captivating, immersive and accessible for everyone.
It is a great responsibility to create a learning platform, and delivering the most effective and efficient learning experiences should be your priority. By implementing the use of mobile apps in education, teachers and institutions can create an impeccable learning structure for their students.
All in all, these perks and benefits of mobile apps in education are gradually revolutionizing learning experiences all over the world.
If you need an educational mobile app for students or require maintenance in an existing one, contact us!
Communication Crafts is an experience-led app development company that offers bespoke eLearning solutions to satisfy your customers and reach your desired goals efficiently.
Our EdTech expert can build a cost-effective, robust and engaging educational app that attracts new users, engages your current audience, exhibits all the important benefits, and more.
Educational apps are the future of education, and we make sure it stays bright!
Looking for a team of the best remote developers?
You're in the right place!