"Tell me and I forget, teach me and I may remember, involve me and I learn"- Xun Kuang
Education is not just about classrooms, lectures, chalkboards, notebooks, and pens. Education is about shaping the students' minds to prepare them for the future.
The evolution of teaching methods has led to the understanding that certain ways of teaching yield better results and more knowledge retention.
Game-based learning is the latest invention in the education industry, and it has been welcomed by students and teachers alike.
Some may say that game-based learning is just an extra step toward education, but it couldn't be further from the truth. Game-based learning provides innovative and interactive ways to change the entire approach toward education, letting the students enjoy the learning process in a way that's relevant to them.
As of 2020, the global game-based learning market has surpassed $5.8 billion, making it the fastest-growing trend in the education industry.
But before we delve deeper into this topic, let's discuss what is game-based learning theory.
What is Game-Based Learning Theory?

Game-based learning is the practice of imparting knowledge in a game-like environment through digital or non-digital games. It can include a wide range of educational activities like role-playing, team games, customized board games, full-fledged digital games, and more.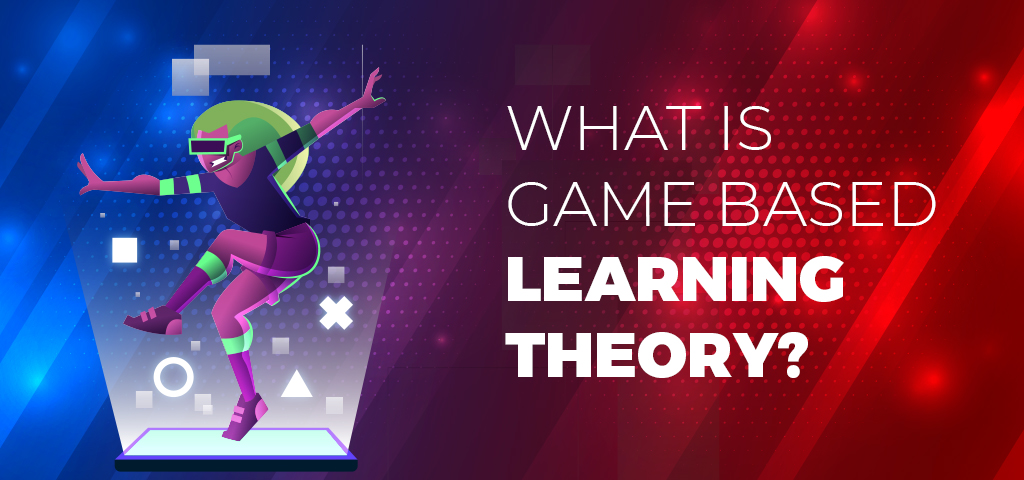 Gamification is the use of game-based learning in the classroom, this is where characteristics and elements of a game are embedded in the learning experience. It can include elements like engaging quizzes, point systems, badges, leaderboards, trophies, etc.
There are many benefits of gamification in the classroom, it motivates the students with competitiveness, a sense of progression, and rewarding results.
Teaching through failure, repetition and completion of goals is the true essence of game-based learning. Redefining the learning outcomes and procedures effectively transforms passive learning into active learning.
Learners can apply the mindset of a game to skilfully navigate through progressing levels to achieve goals, forming a challenging, engaging, and highly rewarding experience for them.
Virtual learning models can boost confidence and enhance theory-based learning by putting the students in a risk-free simulated situation to gain hands-on experience.
Various industries are slowly realizing the versatile applications and advantages of games in education. Let's look at some effective and fruitful game-based learning examples.
Game-Based Learning Examples:
1. Pulse:
Pulse is a game used by the healthcare sector for simulating unpredictable and stressful medical situations. It is an immersive digital game with cutting-edge graphics to apply theoretical knowledge and prepare future military and civilian healthcare professionals in a risk-free scenario.
2. Duolingo:
This is a language learning platform that utilizes the benefits of gamification in the classroom and in an application. Different levels, points, losing lives, competing with other friends, and rewards after lessons are some of the game-like characteristics Duolingo uses to make language learning more captivating.
3. Flight simulator:
Game-based learning is most widely used by the aviation industry. Amateur pilots can train on flight simulators to achieve goals and earn rewards while practicing flying in a safe environment. The flight simulator can yield faster and better results than traditional theory-based learning.

Game-based learning can be utilized in many ways, let's discuss some of its types.
Types of Game-Based Learning:
Different types of games can be utilized to incorporate game-like environments into the learning experience.
1. Board games:
Board games can stimulate the learners' minds to actively learn about a chosen subject. Monopoly or Game of Life can also be considered educational games with characters, points, decision-making, money management, etc.
The learners can also be included in the planning or creation of an educational board game to enable project-based learning.
It can also include puzzles and card games.
2. Real-life games:
Different types of games in real life can be used for motivating students to move and act, use their body and mind as a whole to achieve goals, and earn rewards. It creates a more immersive environment for team-based learning and role-playing games.
3. Digital game-based learning:
This type of game-based learning is used to simulate real-life situations for preparing or training learners in a risk-free environment. It provides virtual hands-on experience to boost confidence and improve situational decision-making.
Different types of games can be created to teach various subject matter and prove to be more effective than conventional teaching methods.
4. AR/VR:
The education industry is adopting modern technologies to provide the best learning environments for its students. AR/VR can take simulations a step further and create the most immersive learning experiences.
Game-based learning can transform the learning experience forever, providing many advantages to games in education.
Looking for custom-tailored EdTech solutions to increase productivity?
You're at the right place!
Benefits of Game-Based Learning:
Various applications and benefits of game-based learning improve the overall learning experience for the students.
1. Motivation:
"Necessity may be the mother of invention, but play is certainly the father." – Roger von Oech.
Game-based learning eliminates one of the core issues in the education process.
With the interactive and engaging elements of a game, students feel more motivated, letting them focus on a subject for longer periods without getting distracted.
Competitive scenarios with rewarding results motivate the students to create, learn and practice at the same time.
2. Inclusive and personalized learning:
"It puts the learning in the hands of students in a way that's relevant to them" – Steve Isaacs, Video Game Design Teacher.
Games are more relevant to students than classrooms, and it gives them a sense of control over the teaching process.
Play-based learning experience invites students to come out of their comfort zone and learn and practice at their own pace. Some countless roles and characters can be defined for the students to pick so that they never feel like they're being pushed or forced toward a fixed role. The students are masters of their own experience.
They can be included as the creator of a game, a referee who checks the rules and regulations of a game, the main character in a game, or anything that the students are comfortable with.
3. Situational decision-making and critical thinking:
"Play is the highest form of research." – Albert Einstein.
Using games is the best way to learn through trial and error.
Different types of games are used to simulate real-life experiences, where the students have to decide on the spot to achieve goals and rewards.
From role-playing games in classrooms to digital simulations of real-life crisis situations, learners use them to adapt to changing situations and improve critical thinking in a risk-free environment.
4. Creativity:
"Play is the shortest route between children and their creative calling." – Vince Gowmon
Stimulating the minds of the learners is one of the biggest advantages of games in education.
Students can form creative solutions for challenging tasks while having fun, tapping into their limitless imagination.
Students can be included in the creation process of a game to foster creativity or specific games can be designed to demand creative solutions from the students for achieving their goals or gaining points.
5. Teamwork:
"Play sharpens our talent for empathy & collaboration…it's the antidote to social isolation" – S. Eberle
Students can be included in various group-based games to cultivate teamwork and partnership. Teams win or lose together depending on their group's performance, motivating the students to work together as a whole.
6. Tracking progress:
"You can discover more about a person in an hour of play than in a year of conversation." – Plato
The progress of the students can be monitored in real-time using progress bars, task lists, or level progressions of each student,
The teachers or instructors can track their performance more closely and intricately by noting every lapse of judgment or gap in knowledge during an educational game.
Rank systems and leaderboards can also be implemented for easy tracking of progress throughout a course or training program.
Future of Game-Based Learning:

Technology is completely reshaping the way we perceive education. With new and improved ways of data retention and creative learning, game-based learning is being accepted by almost every industry.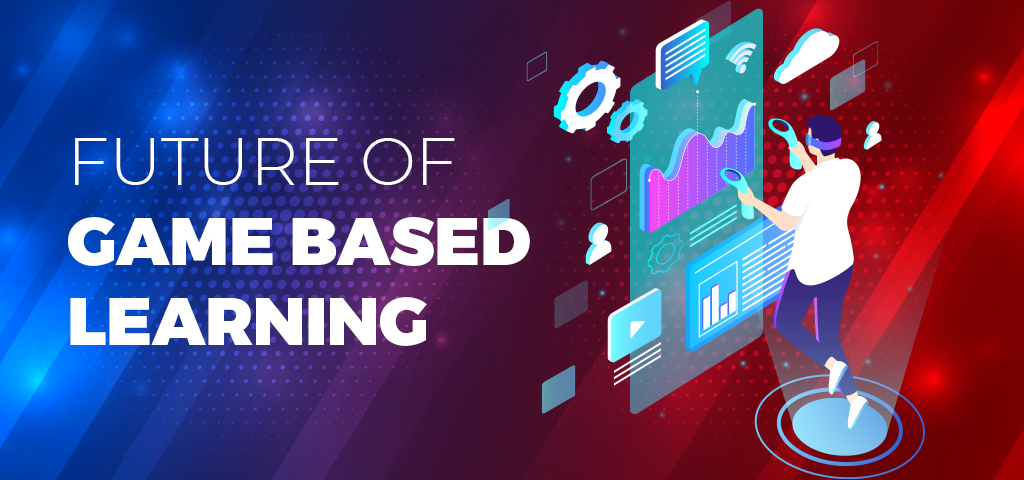 Game-based learning platforms that simulate and provide real-life experiences are already applicable to most industries for training via game-based learning for adults.
Modern technologies like AR/VR, robotics, and artificial intelligence are most likely to shape the immediate future of game-based learning, providing the most immersive simulations for first-hand experiences.
Microsoft is receiving an investment of $22 billion over the next 10 years from the Pentagon for AR headsets to use for military training purposes.
Also, 82% of companies believe that the implementation of AR/VR exceeds their expectations.
Game-based learning experiences will continue to transform and reshape the education industry in new and innovative ways.
Takeaway
Game-based learning is revolutionizing traditional learning methods.
From embedding elements of games in the classroom and playing team-based activities to the simulation of real experiences through digital game-based learning, provides an engaging and innovative way to approach the learning process.
With different types of game-based learning, the advantages of games in education are unparalleled in modern times.
Play-based learning methods are being adopted for preschool children to gain cognitive abilities and improve teamwork. And large scale simulations are being adopted by various industries to train new employees in a safe environment.
The applications of game-based learning are truly endless.
Game-based learning implementations can work wonders for your company, and we're here to help you with that.
Communication Crafts is a performance-driven and experience-led EdTech development company that provides cost-effective solutions to match and exceed your expectations.
Our high-skilled developers can create custom-tailored, cutting-edge game-based learning solutions according to your requirements.
Let's make learning fun!
Looking for custom-tailored EdTech solutions to increase productivity?
You're at the right place!