eLearning is unequivocally a big part of the future of education. Providing a more engaging and interactive learning experience, modern eLearning models are being preferred by students and teachers alike.
EdTech solutions deliver 25-60% knowledge retention, while traditional methods provide a mere 8-10%. That's why eLearning solutions are in demand now more than ever.
Also, learning through modern eLearning models require 40-60% less employee time than in traditional education settings.
The importance and benefits of eLearning are well-established after the rise of EdTech startups. However, creating an eLearning platform is not as easy as one may think.
Read more on the impact of EdTech startups on the education industry.
Building a perfect online learning platform design requires careful considerations and planning.
That's why our EdTech experts have encapsulated the top 9 tips for an ideal eLearning UX design in this blog.
Have a look!
Let's start by understanding the meaning of UX design.
What is UX Design?
UI = User Interface.
UX = User Experience.
The User Interface is the frontend part of a website or an application.
The UI is responsible for the UX and the UX defines the level of satisfaction experienced by the end-user while using a digital product.
The ease of use, likability and accessibility of a website or application depends on the quality of UX design. Improving the UX design is the series of actions taken to enhance the interaction of the digital product with the end-users.
A User Interface that resonates and engages with your audience while maintaining clear and simple navigation is an ideal way to plan your UX design.
How to Improve your eLearning Architecture Design?
Students, teachers and parents are preferring eLearning models because of their level of convenience and ease of use. Having an unsatisfactory eLearning platform design defeats the whole purpose of switching from traditional learning methods.
Here are 9 tips to enhance your eLearning UX design:
1. Easy & Simple Navigation
Ease of use and navigation is an integral part of any modern eLearning design. A well planned and structured navigation delivers information access with ease, letting the users navigate through content using straightforward and familiar controls.
Easy navigation increases customer engagement and minimizes bounce rate, allowing your users to reach the required content without wasting time on learning the functionalities of your eLearning UX design. Simplicity and ease of use are pivotal for EdTech development.
This feature also increases your learners' knowledge retention by facilitating easy content consumption.
2. Gamification
Motivation is a crucial part of the learning experience, and this is where Gamification shines. Gamification is the use of game-like elements in the learning process, for example, embedding progress bars, motivation stickers, leaderboards, point systems, engaging quizzes, trophies, badges, etc.
This technique keeps the learner engaged in a game-like scenario, where the user keeps trying to progress through the levels, gaining more and more knowledge in the process.
Gamification is a necessary and unavoidable feature of online learning platform design. Along with motivation and engagement, gamification features like progress bars and point system helps the instructors in staying updated with the learners' progress, enabling easy performance tracking.
This feature also creates a sense of competition among learners who are trying to gain badges or stickers in the learning process, boosting motivation even more.
3. Effective Learning Environment
Users often prefer a learning environment that teaches them through experiences, and that's why an effective learning environment is pivotal for a successful eLearning architecture design.
Real-world applications motivate learners to find value in the learning experience.
New educational content should be built up from the users' prior experiences and knowledge.
Problem-solving and critical thinking exercises help the learners to gain awareness of their expertise while comparing it with others' results.
An ideal eLearning architecture design must have a platform for collaboration and communication among students to learn new content.
Creating a relevant and valuable learning experience is crucial to get the learners' attention and deliver lessons/courses that make a difference.
4. Compatibility Across Various Devices
Remote learning and the convenience to learn whenever and wherever is of paramount importance in an eLearning architecture design.
User interfaces designed only for landscape screens can be problematic in portrait mode on mobile phones. Mobile-friendly eLearning UX design delivers high flexibility to your users. Develop a highly responsive eLearning platform design and stay one step ahead because content consumption is mostly done on smartphones nowadays.
Also, keeping a highly responsive eLearning architecture design provides a personalized learning experience and gives the learners control over the learning process.
5. Valuable & Well-Planned Content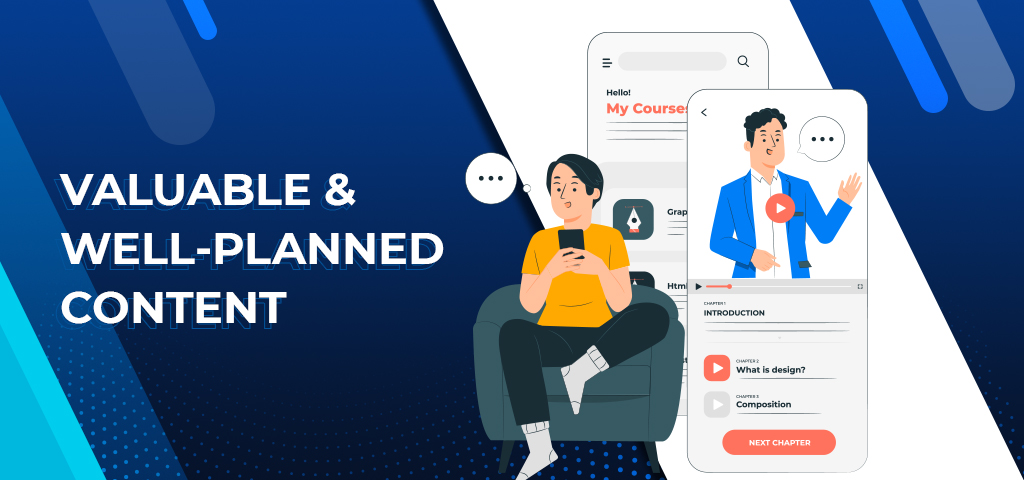 Content is everything when it comes to planning your eLearning architecture design.
First of all, your modern eLearning design must facilitate multimedia learning for maximum knowledge retention, providing audio and video content along with the text. Visuals enhance the learning process to a great extent, combining visuals with texts help the learners remember complex concepts with ease.
Users are more inclined towards scanning a web page instead of reading it from word to word. They analyse the important parts of the content and search for relevance. That's why the content design in your eLearning platform design must consider the F-shaped reading pattern.
The first lines of any paragraph receive more attention than the rest of the content. That's why text formatting is extremely important along with attractive and informative headings and subheadings.
6. Micro Interactions
Microinteractions and feedback make the learning experience simpler and easier for the learners. Distinct animations, clear navigation and calls to action nudge the user in the right direction, helping them use your eLearning platform more efficiently.
Also, push notifications can be beneficial for your eLearning platform design. It is an easy way to interact and connect with your users and keep them updated about the courses and training programs effectively.
Alerts, updates, offers, suggestions, etc. through push notifications can conveniently convey your message and provide a nudge to execute the required actions. Moreover, you can send personalized messages in the learners' notifications to make them more motivated to learn and more engaged with your eLearning architecture design.
7. User-Centric UX Design
Your eLearning architecture design must reflect your user's personality, needs, and wants. Research and understand your target audience for optimum results.
For example, your modern eLearning design may differ according to different age groups:
Younger kids would prefer attractive colors to captivate their attention;
Teenagers would prefer relevant content to keep them interested;
Adults would like to see real-world applications in the learning content.
The more you understand your target audience, the better you can plan your online learning platform design. Consider your users' short-term and long-term goals, prior knowledge and skills, behavior patterns, and more.
8. Reuse Best Practices
Research and study your competitors and similar eLearning UX designs for inspiration. Innovation is not always the way, sometimes repeating and reusing already existing best practices is the ideal way to go.
It is generally helpful for your users if your modern eLearning design is similar to other eLearning platforms.
Take your time to learn what already works, giving you a basic idea of what people prefer in an eLearning platform design. Understand the basic design used by other eLearning platforms, gain inspiration, and then create your own eLearning design.
This makes your eLearning UX design even more simple to navigate and easy to use because people would have already used similar patterns and controls on other well-established websites.
9. Accessibility & Comfortable Display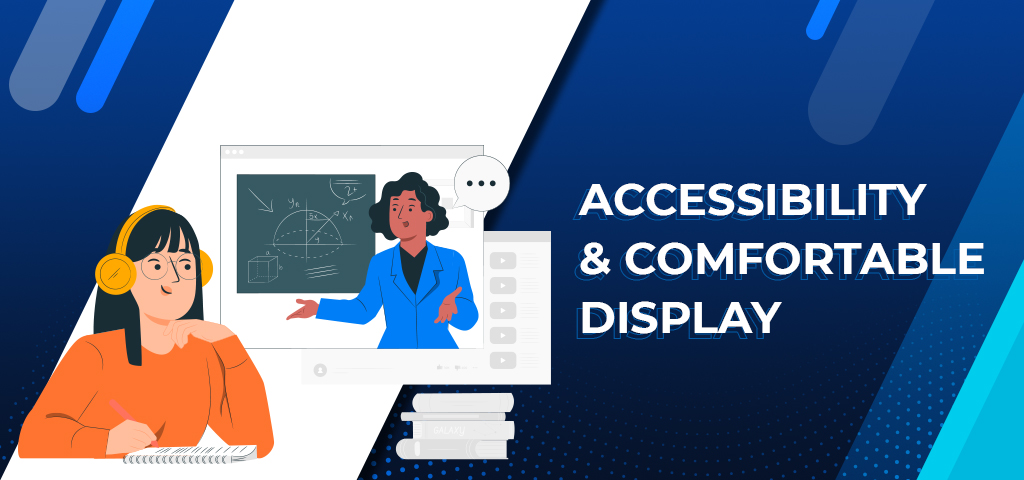 Every aspect and element of your eLearning architecture design determines the level of accessibility of your eLearning platform.
From fonts to colours, everything must be carefully planned. Font size should be big enough to read and navigation elements must pop out different colours to direct the user towards it.
Providing different modes of display colours provides more flexibility to your users. Dark mode or reading mode increases accessibility to a great extent.
Providing warmer colours makes it easier for the users to consume content, makes your eLearning UX design more appealing and delivers a pleasurable learning experience.
Your eLearning platform design must not overwhelm the users. More than required cognitive load can lead to a higher bounce rate. Provide familiar themes, relevant content and simple instructions for an easy and effortless learning process.
Final Thoughts
A carefully planned eLearning UX design is pivotal for delivering an effective and efficient learning experience. The aforementioned tips motivate and aid the learners to consume content easily and understand concepts quickly.
eLearning models have changed and revolutionized the education industry. From easy navigation to accessibility, every tip discussed in this blog is crucial for building an eLearning platform that satisfies your audience and attracts potential ones.
If you require assistance in developing the perfect UX design of your eLearning platform, feel free to contact us.
Communication Crafts is a performance-driven and experience-led EdTech development company that provides cost-effective solutions to match and exceed your expectations.
Our high-skilled eLearning developers can create custom-tailored, cutting-edge EdTech solutions according to your requirements.
Contact us for full-fledged Learning Management Systems and feature-rich Educational Apps.
Making learning easy for everyone!
Looking for custom-tailored EdTech solutions to increase productivity?
You're in the right place!