Augmented Reality is the up and coming technology in the digital world. From new entrepreneurs to fortune 500 brands, the significance of AR is spreading across industries like wildfire.
As of 2021, the global market of augmented reality has already surpassed $25 billion and is projected to reach $340 billion by 2028.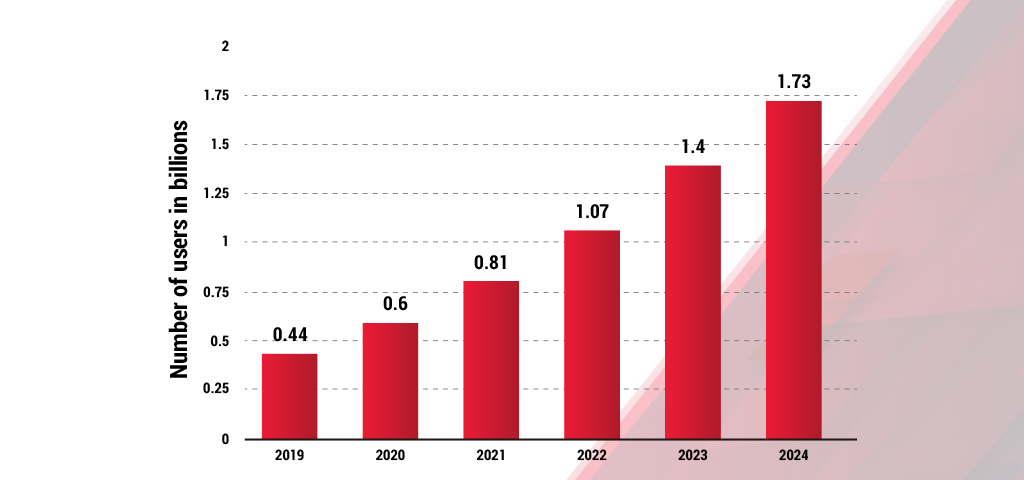 With 73% of mobile AR users claiming high satisfaction levels, business owners and companies are gravitating towards augmented reality applications.
And that's why we created this guide to help you keep up with modern technological trends like augmented reality mobile applications. Keep reading to gain in-depth insight about AR apps for making well-informed decisions for your AR app development plans.
What is an Augmented Reality Application?
The term "augmented reality" was coined in 1990 by Thomas Caudell to describe the display that was mounted on electricians' heads to guide them through complicated wiring assembly.
An augmented reality mobile application software integrates virtual or digital objects or content in a real-world environment. Augmented reality software is used to meet consumer demands or training purposes in a wide range of industries which includes healthcare, education, eCommerce, tourism, entertainment, news media, military, marketing, and more.
Let's discuss the use cases and examples of AR in different industries.
Use Cases and Examples of Augmented Reality Software in Various Industries:
-Education:
The rapid growth of eLearning has introduced us to many new and improved modern learning methods and augmented reality applications are one of them. Instead of showing pictures or explaining theories, an AR app lets you simulate real objects to provide a unique learning experience.
Augmented reality apps are one of the most impactful and immersive ways of learning, students can feel engaged with the ongoing topic and understand concepts with ease. AR apps can be used to understand and experience concepts that can't be physically perceived otherwise, like quantum physics, chemistry, biology, astronomy, and more, making it the most imaginative way of learning.
Google Sky Map is an AR app used for studying astronomy. Students can face their cameras towards the sky and the app automatically identifies and displays stars and constellations, making it an interesting and easy way to learn astronomy.
Catchy Words AR is a fun game for kids to learn words. Using their device, kids have to find and catch letters around them to form words, a unique and immersive way to learn word-formation.
Elements 4D is an augmented reality app used in the field of chemistry. Students can conduct experiments and learn the behaviour of different elements through this AR app.
3D Bear App is an imaginative AR app used for making scenes with 3D objects to stimulate creativity among students. Also, teachers can create immersive remote learning lesson plans with 3D models.
-eCommerce:
Augmented reality apps provide yet another way for the eCommerce industry to showcase its products and services, and enhance customer satisfaction at the same time.
Pictures and videos in online stores may help the customers understand the product, it still lacks the feel of a physical store where you can touch and try the products. An AR app can recreate that hands-on experience to make your customers feel at ease while buying your products or services.
63% of online shoppers claim that augmented reality features improve their retail experience, providing the qualities of a physical store in the comfort of their homes.
AR apps like Houzz and IKEA allow users to see and fit the chosen furniture inside their homes. This augmented reality feature is very effective for planning and matching the interior layout and décor aesthetics of the customers' homes.
Companies like Loreal and Sephora have integrated AR features in their respective applications to let their users experiment and try different make-up styles and products. This improves user experience by eliminating the risk of purchasing unsuitable cosmetic products.
Wanna Kicks is a dream come true for sneaker lovers as it allows the user to try on various sneakers and make well-informed product decisions using augmented reality.
Augment takes eCommerce to a whole new level. It provides an easy way to visualise 3D products using a camera with augmented reality technology. With a 3D model, you can create an immersive sales pitch to boost conversion rates.
Walmart integrated augmented reality devices to increase inventory management efficiency. Instead of scanning each item, the employees can use the device to identify the ready-to-go boxes, reducing the time taken for products to reach the shelves.
-Medical/Healthcare:
Augmented reality technology can be used in many ways to build apps for healthcare and medical purposes. It is a powerful tool for simulating severe physical traumas or surgical visualisations to plan out the optimal treatment for the patient.
AR apps can also be used to provide immersive training for medical students in a risk-free environment.
AccuVein is an augmented reality software used for mapping out a patient's veins on their skin to precisely and quickly locate the vein for injection or IV therapy. Augmedics is another example of an effective augmented reality software used to improve healthcare by providing a see-through map while performing spinal surgeries.
Using just a camera, the Anatomy 4D AR app allows medical students to learn and understand the human body and heart structure in a much interactive way.
-Tourism:
With the internet and mobile phones, the need for physical maps to navigate around a place is obsolete. And augmented reality technology takes it a step further by visualizing precise directions and suggestions for tourists.
Along with navigation, augmented reality mobile applications can also provide extensive information about places and famous objects.Users can point their phone cameras at places and objects to learn interesting titbits or historical trivia about them.
Travelling to new cities and countries can be easier and much more convenient with augmented reality applications.
AR apps like AR city and World Around Me can provide routes and guides to navigate around the city and browse for places like restaurants, ATMs, hotels, tourist attractions, museums, and more.
ViewRanger is an AR supported app that guides people while hiking or trekking through mountains and unknown wilderness. It can help the users to identify pathways and mountains around them.
Read more: Top React UI Component Framework Libraries
-Entertainment:
Augmented reality mobile applications can also be widely used for entertainment. This technology can be utilised for creating highly immersive arcade games or augmented simulation games through phone cameras.
Pokemon GO is the most successful example of an augmented reality game, allowing the users to hunt and capture pokemon around the city.
Zombie GO is another augmented reality game where the players have to survive an augmented apocalypse by killing through their phone cameras.
InkHunter is an AR app that lets you superimpose different tattoo designs on the users' skin. Choosing a permanent tattoo can be a challenging task, and this augmented reality app makes it easier.
Snapchat uses augmented reality to engage and captivate its users in a very effective way. Users can experiment with a wide range of lenses to add various effects while clicking pictures or taking videos.
-Aviation:
Augmented reality software provides many opportunities for the aviation industry. It simplifies pilot training with an immersive learning experience. Pilot trainees can gain practical experience in safe environments with simulated air-traffic control, weather conditions, different terrains and navigations systems.
-Marketing:
Many companies and brands have utilised augmented reality software in unique and creative ways. This technology provides a platform to engage and amaze the consumers with interactive advertising campaigns.
Pepsi launched an AR campaign known as "Pepsi MAX: Unbelievable Bus Shelter" where they planted HD screens at bus stops with AR 3D animations to entertain their audience while they waited for their bus. The video achieved 24,000 shares and 2 million views within 7 days, proving the effectiveness of augmented reality software in the field of marketing.
Burger King also utilised augmented reality in their mobile application in a fun way. The users could use the phone camera with the Burger King app for burning advertisements of the competitors to win free burgers.
Also Read: Best Nodejs Frameworks for Web Apps
-News media:
The industry of news and media can benefit from augmented reality software as well. Along with utilising green screens to deliver weather forecasts, AR can be used to create visualizations of storm, wind or rain for simulating vivid and realistic weather conditions for the viewers.
-Army/Military:
Even the army or defence industry can apply augmented reality software in numerous ways. The US Army has been experimenting with Tactical Augmented Reality (TAR) to improve the efficiency of their units. TAR Goggles provide a heads-up display that distinguishes friendly troops from enemies and effectively improves GPS and night-vision for the soldiers.
Now that you know that augmented reality applications can be utilised in unique ways for almost every industry, let's discuss the augmented reality software development kits.
Looking for impeccable augmented reality software solutions?
We've got you covered
What is Augmented Reality Software Development Kit (SDK)?
An augmented reality software development kit (SDK) is a set of tools needed for creating augmented reality applications by improving development efficiency and eliminating errors or bugs. It is a boon for AR app developers.
AR app developers can utilise AR SDK to blend digital objects into the real world. The AR app developers can create augmented reality applications for multiple platforms with many AR SDK features like multi-tracking, image recognition, visual simultaneous localization and mapping (SLAM), 3D object tracking, and more.
Top Augmented Reality SDKs for App Development
How to Create Augmented Reality Applications
1.Market Research
The first and foremost step on how to build AR app is to scour the market of AR app development. Check Google Play Store and Apple App Store to research augmented reality apps by your competitors and related fields.
Learn the average loading speeds of different AR apps and examine their UI/UX design to eliminate the flaws and create an impeccable user experience for your target audience.
Check reviews, ratings and feedback of other AR apps and compile the data to create a perfect AR app development plan.
2.Define Requirements
After conducting thorough market research, you must define your requirements to move into your AR app development plan. Also, this makes it easy for your potential AR app developers as they'll know exactly what you want from your augmented reality application.
Requirements can be determined in the following ways:
Specific features for your AR app
Augmented reality mobile application type: Native / Hybrid
Supported platforms: iOS, Android, Windows, macOS, Smart goggles, etc.
Choice of AR app SDK: Vuforia, ARkit, ARcore, Amazon Sumerian, Wikitude, etc.
Payment limits
Type of AR app: Educational, marketing, entertainment, etc.
Read more: Reactjs vs React Native: Difference Between React and React Native
3.Hire AR experts or AR development team
The third step is to hire AR app developers to start your AR app development process. It is recommended to choose a professional software development company with the experience to deliver all your requirements without a hitch.
Consider the following for choosing an AR development company:
Experience and portfolio;
Seamless communication;
Transparent development process;
Mutual understanding of priorities;
App development cost;
Customer reviews and feedback;
Global benchmarks like ISO certification;
NDA agreements;
Support and maintenance.
4.Publish
This is the final stage of your AR app development. After the requirements are met, bugs are fixed and app testing is successful, it is time for you to publish your AR application. Prepare the title, category, keywords, thumbnail, description, guidelines, etc. and launch your augmented reality app. Apple App Store takes a few days to examine the app according to the iOS development guidelines, on the other hand, Google Play Store requires no review process and your AR app is ready to download within a few hours.
Also read: Transport and Logistics App Features
How Much Does it Cost to Create an AR App?
Conclusion
Augmented Reality mobile applications and software has a wide scope among numerous industries. It is beneficial for education, healthcare, eCommerce, marketing, aviation, and more. Every industry is welcoming augmented reality to improve efficiency and deliver unique user experiences.
There are many SDKs that AR app developers can use to build impeccable augmented reality mobile applications. With thorough market research, defined requirements and an effective AR app development company, you can easily create your own AR app.
Different types of AR apps require different costs ranging from $2000 to $12000 with 80 to 500 hours of development time respectively.
We hope this guide has helped you in making well-informed decisions for your augmented reality application development plans.
And if you require any further assistance or a team of AR app developers, contact us!
With 16+ years of hands-on experience and ISO certification, Communication Crafts is a trusted software development company. Our team of expert AR app developers combine a transparent development process with the latest technologies to create the best cost-effective augmented reality mobile applications.
Let us augment your brand to the top!
Looking for impeccable augmented reality software solutions?
We've got you covered