What if I told you that there is a way to simplify one of the most complex and unpredictable industries? Yes! Mobile apps for transportation and logistics can deliver that with ease.
Transport and logistics business manages inventory, storage, employees, customers, shippers, a fleet of vehicles, documentation and more. It is the industry that facilitates the flow of goods from production to consumption.
In 2017, the global logistics market value was $7.6k billion and estimated to reach a staggering valuation of almost $13k billion by 2027.
Big names in the logistics market: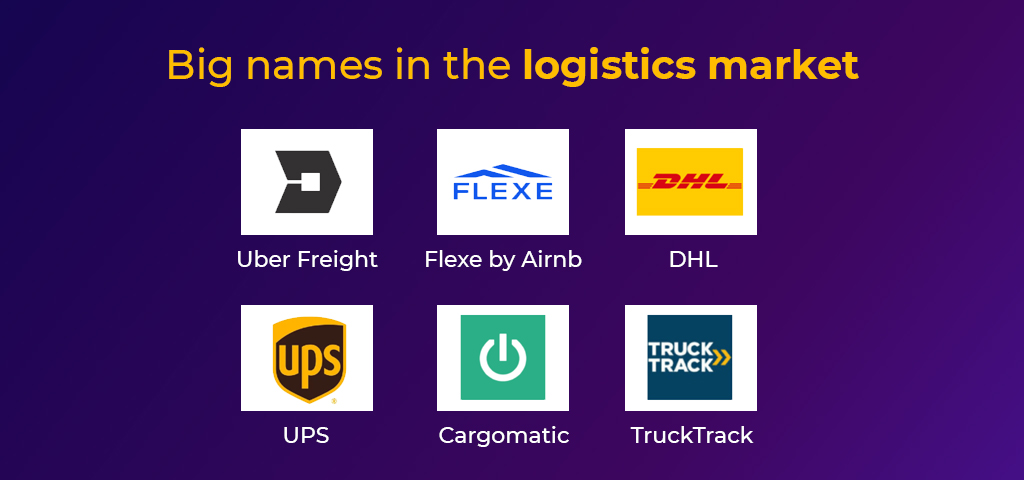 The logistics industry is heavily dependent on the efficiency and time management as it is an error-prone business. Simple errors and miscommunication can lead to much bigger problems for the customers or the shippers, ultimately making it difficult for the logistics business to sustain.
However, mobile apps for transportation and logistics create a unified and systematic approach to run your logistics business. It can help you monitor and manage your daily logistics operations and provide seamless deliveries without a hitch.
Let's discuss the key benefits and features of logistics transportation apps.
What are Logistics Apps?
A transport and logistics company handles a large number of goods, vehicles, and employees, making it an arduous task for the admin to look after the day-to-day operations manually.
A full-fledged logistics application gives you real-time information about your fleet, route of delivery, shipment details, inventory, driver details, and more. It is a unified platform to gather all the logistics information in one place and maintain day-to-day logistics operations with ease.
Logistics is a very unpredictable and error-prone industry, and mobile apps for transportation enable you to stay prepared for dealing with unforeseen and unfortunate situations.
Let's discuss some of the countless advantages of a transport and logistics app.
Benefits of Logistics Apps:
Mobile apps are a boon for the logistics business, where the complexity of daily operations is almost unmanageable manually.
Here are some of the key benefits of mobile apps for transportation:
Accurate tracking of drivers and vehicles;
Provides a systematic approach;
Optimized pre-planned routes for deliveries to increase efficiency;
Easy and simplified fleet, inventory, and warehouse management;
Complete transparency between admins and drivers;
Reduces human error;
Reduced paperwork and more automation;
Real-time and accurate information accessible from one app;
Emergency preparedness features;
Increased customer satisfaction.
8 Must-Have Logistics App Features:
-Tracker for Vehicle and Driver:
No transport and logistics application is ever complete without driver and vehicle tracking features. Your driver's BYOD device or the device provided by you must have a transportation app with vehicle tracking features, allowing you to receive real-time updates about your delivery vehicles and drivers.
The demand for vehicle tracking software is rising dramatically. The global market share of vehicle tracking systems surpassed $17 billion in 2020, and the transport and logistics app segment held a dominant share of 26% which continues to grow rapidly. This should suffice the importance of driver and vehicle tracking features for your logistics app development.
Vehicle tracking among your transport app features can save valuable time by eliminating the need to call the drivers repeatedly and lets you assign new work or deliveries to the drivers ahead of schedule.
Also read: Hire Top App Developers in 7 Simple Steps
-Optimized Routes for Drivers:
A feature that showcases the shortest and most efficient routes for delivery is one of the best logistics business ideas. Late deliveries can severely hurt your logistics business's integrity, resulting in disgruntled customers.
To gain full control of the outcome and ensure on-time deliveries, you must have online maps with clear pre-planned routes integrated into your transport and logistics app.
A simple optimized route feature added to vehicle tracking lets you monitor the whole operation easily and provide seamless deliveries.
Cab service applications like Uber takes full advantage of this transport app feature to ensure maximum customer satisfaction.
-Find the Nearest Repair Shop or Fuel Station: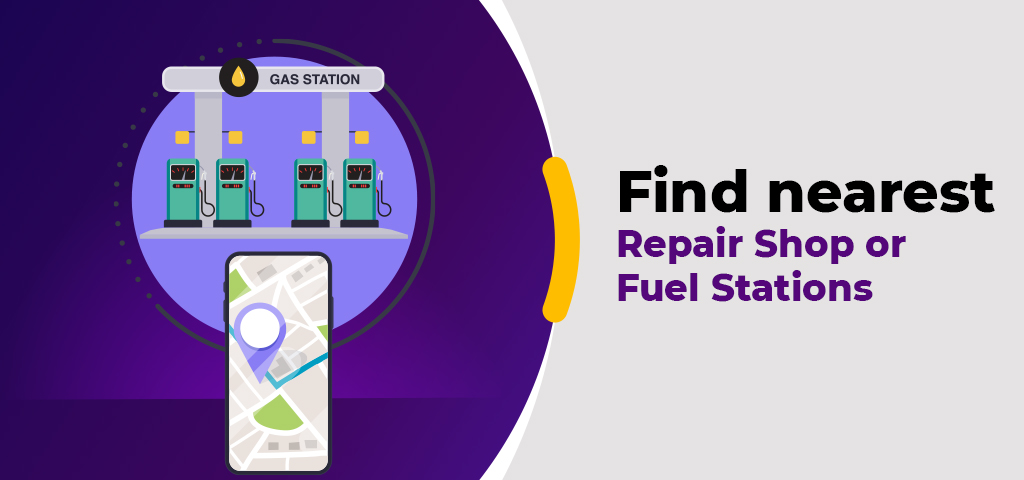 A transport and logistics business is bound to face some setbacks and hiccups from time to time. To avoid unpleasant and unforeseen scenarios like on-duty trucks facing fuel shortages or engine breakdowns in the middle of a delivery, you must add a feature that keeps your driver prepared beforehand.
Searching for fuel or repair shops around the city can cause massive delays in deliveries. Having a feature that pinpoints the locations of the nearest fuelling stations and repair shops can tackle such problems with ease.
This feature can also include a fuel log in your delivery logistics app that monitors the distance traveled and notifies/reminds the driver to refuel before the next delivery. This feature allows you and your drivers to stay one step ahead of unavoidable problems and continue providing timely deliveries despite the setbacks.
Spritmonitor is an example of a car maintenance app that delivers the features mentioned above with a fuel log and car maintenance notifications.
-Offline Support:
There are rarely any internet connectivity issues when you're working from home or at an office, but that's not the case with a transport and logistics business. Most of the business operations occur on the road, and your drivers will probably lose internet connection while delivering goods and services.
And if your vehicles/drivers end up in places with no internet coverage, your mobile apps for transportation business would be rendered useless without offline support features.
Offline features in a delivery logistics app can enable your drivers to enter the necessary data like time of delivery completion, drop-off location, petty cash transactions without requiring internet.
Additionally, you can implement an offline feature that lets your drivers download the pre-planned delivery route to help them get directions without internet connectivity.
Also read: How to Outsource App Development?
-Multilingual Support:
A transport and logistics app with multilingual support breaks the language barrier and makes it feel welcoming to all.
With various elements and features, logistics applications are already quite complex, and an unfamiliar language can make it much more difficult to operate.
People with different native languages or ethnic backgrounds can use a multilingual logistics application conveniently and comfortably.
Read more: Successful Mobile App Development Process in 4 Steps
-Automated Bill of Lading:
The bill of Lading is an important contract made between the shipper and the carrier in a transport and logistics business. It is a receipt or an agreement for the transport of goods by the carrier for the shipper.
Your logistics application can have this feature to automatically produce the Bill of Lading when required, eliminating the need to prepare the paperwork and providing seamless communication between carrier and shipper.
Also, the Bill of Lading in your logistics application can be accessed at any time in the future, lest any error or miscommunication takes place.
Read more: Reactjs vs React Native: Difference Between React and React Native
-Warehouse Management:
Along with seamless fleet management, the logistics business needs efficient warehouse and inventory management. Providing and maintaining safe storage for a large number of goods can be a cumbersome task.
A warehouse management system in your logistics application provides a unified platform for receiving, storing, restocking, packaging, and tracking inventory. It takes care of your day-to-day warehouse operations, reducing chances of human error and giving you the freedom and time to focus on the growth of your business.
-Daily Log of Drivers:
This feature provides complete transparency between you and your drivers. An automated daily log of your drivers gives you detailed information that includes:
Driver's personal information;
Deliveries completed;
Hours of work;
Reviews from clients;
Inspection details of vehicles;
Exact timings of pickup and drop-offs.
Wrapping up:
Mobile apps for transportation are the most efficient and effective ways to manage transport and logistics business operations. With a plethora of useful features, your transport and logistics app can provide a unified and seamless platform to oversee day-to-day operations and boost productivity.
From accurate vehicle and driver tracking to warehouse management, a logistics application can easily handle and manage end-to-end operations on a daily basis.
If you're interested in building an app for your logistics and transport business or require maintenance/updates in your existing logistics app, contact us right away!
Communication Crafts is an experience-led app development company with an enviable list of clientele that spans many countries and industries. Our mobile app development company can build a cutting-edge transport and logistics app custom-tailored to suit your needs and exceed your expectations.
We welcome you to exploit our expertise!
Looking for top-notch bespoke app development services?
We've got you covered!