We will provide you with an LMS overview that will explain what is LMS, what is a learning management system, LMS definition, the benefits of learning management system an LMS, different purposes of an LMS, different types of LMS, Learning Management System examples, guide to corporate LMS systems vs LMS education, main features of Learning Management System, and how to choose an LMS company.
The term "eLearning" was first coined in 1998, and since its inception, the eLearning industry has grown exponentially. For the past 2 decades, the education industry has been undergoing a technological metamorphosis.
As of 2020, the eLearning industry has surpassed $250 billion worldwide and projected to reach a staggering figure of $370 billion by 2026.
And the global market revenue of Learning Management Systems is expected to reach $45 million by 2028
72% of organizations use an LMS to stay ahead of the curve, and 40% of fortune 500 companies use it to stay competitive.
According to further studies, 68% of employeesprefer learning at work and 58% of employees prefer learning at their own pace. Both of which can be easily facilitated via Learning Management Systems.
And when it comes to academics, 90% of students choose eLearning over traditional classroom learning.
The eLearning and EdTech industries are turning heads all over the world, and yet many companies haven't adopted an LMS. Ignorance isn't bliss when it comes to eLearning, you need to know the workings of a learning management system to reap its benefits.
Well-trained employees are the future of a company, and well-educated youth is the future of a country, an ideal LMS can deliver both.
Before we start, here's an insightful video by "TovutiLMS"
What is a Learning Management System (LMS)?
This is the introduction of learning management systems.

A learning management system is a software application that allows you to create, manage, track, and deliver eLearning courses.
Although this is an apt answer to what is LMS, it is still just the tip of the iceberg.
LMS platforms help you in the tracking of learners' progress, providing a learning path, personalizing learning experience, reporting performances, integrating advanced technologies, collaborating around the world and more.
Let's break it down to clearly understand what is LMS means:
L "Learning": Enables you to create and deliver eLearning services;
M "Management": Let's you organize and track the eLearning courses;
S "System": A complete online software to oversee all the actions, changes, and functionalities.
What is a learning management system : Two parts
Admin Interface: This is where all the back-end operations are held. It is responsible for managing the users, courses, materials, and events. Enables you to provide a seamless experience for the end-users.
User Interface: This is the front-end part of the LMS that the learners see and use. From registration to online classes and tests, everything is executed in this part. An impeccable user interface is one of the most important features of an LMS.
Now that you're familiar with the concept of what is a learning management system, you must be asking yourself "why adopt an LMS system?"
With 16+ years of experience here at Communication Crafts, our LMS experts will provide you with the best answers.
What are the benefits of a Learning Management System?
LMS is a one-stop shop for all your eLearning needs. The perks of having a learning management system:
1.Systematization of content:
LMS platforms enable you to systematize and unify all your eLearning content in one place. There is no risk of losing your data, as everything is stored together in a cloud-based host or at your end. Moreover, an ideal LMS encrypts your data to keep it safe from notorious hackers.
2.Blended learning:
Students and employees can reap the benefits of technology and digital media by integrating them into their traditional learning methods, providing more flexibility in their learning process.
3.Limitless course materials:
Having an LMS system gives you the ability to access courses and materials from all over the world. The students or employees can register for courses and face no restrictions when it comes to studying materials. Also, people can refer back to their course content whenever they wish.
4.Saving time and cost:
It is a massive advantage for remote learning because it means that you can drop the need to pay exorbitant building or classroom rentals, instructor fees, travel, and printed course material costs. Digitization of courses, online classes, and webinars is much more cost-effective.
Students or employees can eliminate courses that are not relevant to their requirements, saving a lot of valuable time. The time needed for travelling to a class or seminar is replaced by a mere click of a button to start a laptop or a computer.
Also, technologies like gamification, video-based learning, AR/VR, are more efficient than traditional teaching methods.
5.Effortless tracking of progress:
Most LMS platforms provide monitoring and analytical tools to measure the progress and performance of the learners. It also allows them to pick up where they left off after each session, making it a seamless learning experience.
6.Easy course modifications and updates:
Unlike traditional learning methods, where the instructor changes or creates new course materials, LMS automates most of the updates and makes it easy to modify segments of any course.
7.Up-to-date with standards and regulations:
LMS platforms provide updates according to the changing regulations and standards to ensure that the learners receive up-to-date course materials in compliance with the regulations.
8.Worldwide collaborations and social network:
Using an LMS, Students or employees can take full advantage of social network platforms to connect with instructors and other students on a global scale. Lesson plans and content, and webinars and forums, can be made available to learners worldwide. Moreover, an LMS can deliver multi-lingual courses for people that speak different languages.
9.Knowledge retention:
Conventional teaching models are not as impactful as modern eLearning methods.
A student or employee can retain much more information from video-based contents than from one-time presentations by an instructor.
Modern technologies like AR/VR, game-based learning, smart videos are cultivating new and better ways of learning.
10.Individualised learning:
People are now realising the biggest flaw of traditional education models, every person cannot follow the same course plan that is provided for everyone. With eLearning and EdTech, students and employees can modify their learning process and study or train at their own pace.
A learning management system has its benefits across many industries for many reasons.
Who uses an LMS system and why?
Along with knowing what is a learning management system, it is crucial that you understand the multi-faceted purposes of a learning management system.
Any institution, industry, or individual who wants to educate or train in any way, can use a learning management system to simplify and systematize the whole process.
Here are the types of organizations and companies that can benefit from a learning management system:
Schools and universities– To enable the convenience of remote learning;
HR departments– To train employees and managers;
Professional groups– To get a member's license or specialised training;
Entrepreneurs– To take crash courses in marketing, writing, accounting, and more;
Self-learners and hobbyists;
Businesses of all sizes and types, including non-profit organizations;
Government organizations like United Nations or state government offices;
EdTech industries and institutions;
Consulting firms.
A learning management system is a very versatile and multi-faceted tool.
It can be used for a wide range of educational activities like training employees, selling online courses, providing guidance for standardised tests, and more.
What are the Different Uses of a Learning Management System?:
What is LMS used for?
A Learning Management System can be used for all types of learning processes (That's what the "L" signifies). That's why LMS systems are being welcomed and embraced by many organizations and enterprises.
Let's discuss what is LMS best used for in detail:
Train employees:
Employee training is a must-have feature for every industry. From a consulting firm to a government agency, everyone needs a way to train their new employees and upskill existing employees efficiently.
A corporate LMS can eliminate the cost and time required for hiring expert instructors and conducting special seminars. Online classes with webinars and other techniques provide an easy way to train new and existing employees.
Also, you can use analytical tools to test the employees and monitor their progress.
Inducting new hires:
Except for the meet and greet, and the physical tour of an office, an LMS system can handle everything.
LMS platforms are a great way to introduce new employees and make important information accessible at all times.
Your learning management system is the ideal platform for educating new hires about your company's history, policies, privacy guidelines, conduct codes, work culture, new skills, and roles and responsibilities of specific designations.
Employee knowledge retention:
Along with upskilling and training your employees, preserving the knowledge of existing employees is important as well.
After a person leaves or retires, their skills, knowledge, and techniques go to waste in most cases.
But with an LMS system, companies can save that information and use it to train new employees.
Train customers and partners:
Learning management systems can be used for much more than just internal training.
You can use an LMS system to provide an overview of your products and services to new customers.
It can also be used to explain the ins and outs of your company to potential partners and investors.
Training customer support and sales:
Departments like sales, business development, and customer support need to be updated with new information and techniques constantly.
A learning management system is the most efficient way to provide them with the necessary information about new industry trends, selling techniques, products and services, etc.
Train remotely:
eLearning breaks the Geographical barriers previously faced by the conventional training models. It is a cumbersome process to gather employees for training from different branches of a company.
With a learning management system, you can hold webinars or online training sessions for your whole organization with ease.
Educational purposes:
A learning management system can work wonders for the traditional education industry.
97% of students stated that eLearning increases knowledge retention, and 81% of students believe that digital learning improves their grades.
Technology is transforming education rapidly all over the world.
It can be used to integrate modern technology into their lesson plans to get better results or transform the whole model into an online course to save costs and workforce.
eCommerce purposes:
An LMS system can also be used for creating and selling online courses and training services to other businesses on a subscription or pay-per-course model.
If you think your company or institution needs a learning management system, then you must know the different types of LMS to make an informed decision.
What are the different types of LMS system?

The most basic purpose of a learning management system is to train or educate, but let's explore further and examine the different types of LMS system.
There are different types of LMS systems suited for different purposes.
Even the deployment methods differ according to your needs.
Researching for an ideal LMS system tends to confuse people. That's why our LMS experts have encapsulated the relevant information for you.
Let's have a look:
Different types of LMS system based on use:
Corporate LMS means
This type of LMS system required for an organization or a company to train new employees or enhance the skills of existing employees.
Companies tend to modify the corporate LMS system according to their needs with extensive features and elements to cover overall training needs.
It is a collection of systematically stored training materials, ready to be used at all times.
Corporate LMS systems can be used for:
Induction of new hires;
Employee training or upskilling;
Customer training;
Introducing your company to potential partners or investors;
Remote webinars;
Sales, business development or customer support training;
eCommerce and B2B purposes.
Academic LMS means
LMS education system is most commonly used by schools, colleges, universities, individual instructors, coaching services, or other educational institutions.
Entire courses and degrees can be completed using an academic LMS system.
It is designed based on semesters, quarterly, or yearly, and rarely requires updates or modifications, as all the studying materials are scheduled in advance.
A major focus is also given to certifications as the students need proof of completion for the courses they finish.
Additionally, monitoring of progress is vital in this type of LMS system to recognise and amend the gaps in knowledge of the students.
LMS education system can be used for:
Personalised learning;
Social learning;
Centralization of course materials;
Unlimited eLearning resources;
Global collaboration;
Assessment and grading tools;
Administrative tools.
Different types of LMS system based on deployment:
Cloud-based LMS means
This type of LMS system is hosted online on a cloud by a third party. The LMS company provides a username and password to your organization or institute for using the LMS platform.
It eliminates the need to download the software, as it can be accessed online.
The LMS company maintains and updates the system for you, making it impossible to personalise or modify the LMS system from your end.
Self-hosted LMS means
The LMS company lets you download, install, and maintain the LMS software on your own, giving you more control over the system.
You can modify or personalise it according to your company's needs, providing more flexibility to integrate it with your existing infrastructure.
On the flip side, you'll have to purchase new versions of the software from the LMS company and contact them for licensing issues.
Private-cloud LMS means
Combining the features of self-hosted and cloud-based deployment, it is the best of both worlds.
It provides you with a private and secure LMS storage system that doesn't share the space with other businesses, giving you control over it and at the same time, eliminating the hassle of downloading the system.
Different types of LMS system based on Licensing and implementation:
Software As A Service (SaaS) LMS model:
In this model, your LMS is cloud-based and provided by an LMS company.
You can choose from different pricing packages depending on the required features and elements. No download or installation is required as it is hosted by the LMS company that provides you with the software.
Reap the benefits of the LMS software while your LMS company takes care of the entire system by maintaining it, providing updates, encrypting data, fixing glitches, and more.
SaaS learning management system examples:
Communication Crafts;
EdApp;
Dokeos;
Nimble;
Cortex.
Open-source LMS model:
In this model, it is your responsibility to create, install, maintain, and personalise the system.
A dedicated IT team is highly recommended for this model, as you need to integrate it with your existing system and update it routinely.
It can be hosted on your company's server, providing flexibility but at the same time, increasing the responsibilities of your IT team.
Open-source learning management system examples:
Moodle;
Forma LMS;
Open edX;
ELMS Learning Network;
Canvas LMS.
These are the types of LMS systems based on use, deployment and implementation, now let's move on to the key features of a learning management system.
What are the main features of a Learning Management System?
There are innumerable features that can be added to an LMS, you must know the key features that match your eLearning needs.
Learning management system features and benefits:
In-built or cloud-based content creation tools for instructors to create and design new courses without using any third-party tools;
Interactive, responsive, and intuitive user interface to facilitate a cohesive learning experience for your end-users;
Gamification features to engage and motivate the learners by setting goals, and offering rewards;
Effective analytical and reporting tools to track the progress and performance of your learners;
An ideal LMS system should have efficient collaborative features to connect with other learners and instructors worldwide;
Webinars and virtual classrooms or training sessions, allowing many learners to participate at the same time through audio or video;
Integration with other tools such as CRM system or HR software;
Mobile-friendly design to let your learners use the LMS system anywhere;
Adaptive learning and Modern technologies like AR/VR, artificial intelligence, or robotics can be useful as well;
eCommerce features to let you sell online courses or training programs.
By now, you must have an idea of different types of LMS system that you need.
But before you proceed to checkout, let's discuss how to select a learning management system provider.
How to choose an LMS company?

The top 9 things to look for in an LMS company: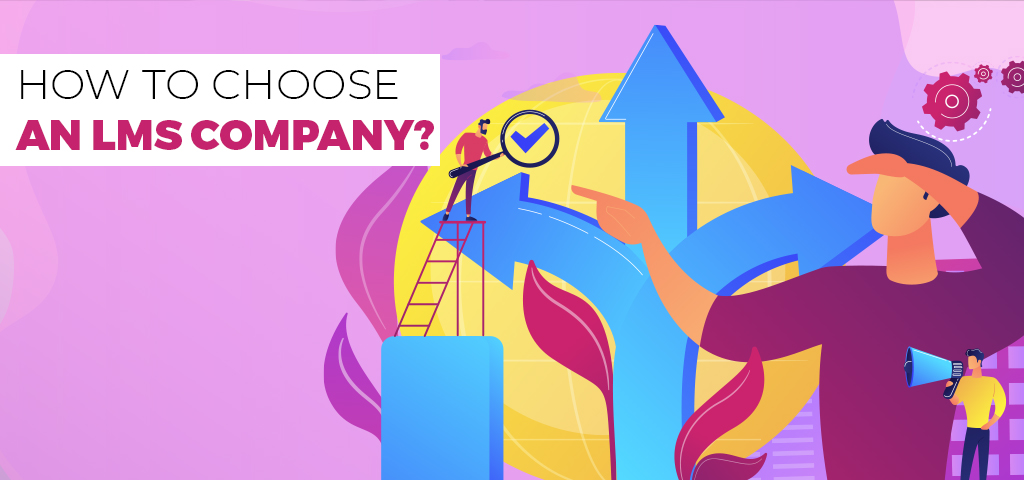 Experience and expertise of the agency;
Flexibility and scalability for long term partnership;
Samples of similar projects to understand the company's capabilities;
Customer reviews/testimonials;
Quality and cost-effectiveness of eLearning features and content;
Seamless communication with the agency;
Transparent development process;
Transparent pricing;
Global benchmarks like ISO certification.
The takeaway:
Technology is reshaping the way we think about education and training. EdTech companies are thriving and the eLearning market is flourishing now more than ever.
What is LMS good for? An LMS system provides Modern online learning models which have proven better retention than traditional learning methods and learning management systems are simplifying training processes and academic courses all over the world.
With many benefits and features, a learning management system is a software application that is used to create, manage and deliver eLearning courses.
An LMS can be created for academic or corporate purposes, enabling seamless training models and engaging courses.
The demand for learning management systems is ever-growing, and if you're inclined towards adopting an LMS, contact us for more information.
Communication Crafts is an ISO-certified LMS development company, delivers innovative and cost-effective custom eLearning solutions.
From full-fledged Learning Management Systems to feature-rich educational apps, we create ROI-driven LMS solutions to captivate the learner's attention instantly and deliver results that matter.
Enhancing learning experiences all over the world.