If you are looking for a full-fledged management system to streamline business operations and increase business efficiency, then Odoo ERP is what you should go with.
Odoo eCommerce is a powerful app/module in Odoo, which you can use to build your eCommerce website. Using Odoo, you can easily integrate it with your Enterprise Resource Planning (ERP) software, Content Management System (CMS), and Customer Relationship Management (CRM) to create the perfect eCommerce shop.
Managing a business is never easy. As your company grows, it gets more and more demanding. The cluster of data and daily tasks can be chaotic and too much to handle. Improper management can be catastrophic for your company.
But don't panic! This is where Odoo comes to your rescue!
Odoo eCommerce software is an all-in-one business management system that keeps your company running without a hitch. From sales, accounting, human resources, or any other department, you can control them all by implementing Odoo eCommerce development.
Giving you the time to focus on growing your business while Odoo takes care of your day-to-day operations.
From website development and payment integration to warehouse management and shipping integration, Odoo is the solution for all your eCommerce problems.
You can use a collection of more than 1000 built-in business modules and 16,000 plug-ins available to streamline every aspect of your online business.
So why adopt an Odoo ERP system in the first place?
Did you know that 88% of organizations agree that an ERP system proves to be successful for their businesses?
Moreover, ERP is one of the biggest markets in the software industry. Its revenue was valued at $43 billion in 2020 and is projected to reach $70 billion by 2026.
To have an edge in the ever-growing competition of businesses, you need to keep track of all data and operations accurately. And this can be a cumbersome process. That's where Odoo ERP software can simplify it for you:
End-to-end control over operations: All the data of your business is integrated continuously by an ERP system, making it easy for you to adapt to sudden changes and observe day-to-day operations.
Improved customer service: A good ERP software has a Customer Relationship Management (CRM) system. Overall communications with your customers will drastically improve because of the information collected by the CRM system.
Instantaneous Information: An ERP system provides a synchronized flow of data across all departments of your business, improving your overall decision-making process.
Quick and accurate estimations: You can instantly evaluate the costs and time that would be required to finish an upcoming project.
Also read: Magento vs Shopify: Choose only the best for your online store
Why choose Odoo eCommerce development?

Odoo has swiftly become one of the most favoured ERP software with more than 36,000 live Odoo eCommerce websites globally. As it has a simple and intuitive UI, it is easy to learn and implement.
Here are some top reasons why Odoo eCommerce development is favored:
Flexibility: Odoo eCommerce development offers a wide range of modules and plug-ins that can be used to tackle any type of business problem. Furthermore, it can be viewed from mobiles and tablets, even though Odoo is completely web-based.
Scalability: Your Company's future is in safe hands with Odoo. Its functionality is conveniently scalable according to the size and complexity of your business.
Large Community: Odoo eCommerce has a powerful community of developers who regularly detect and remove bugs and issues. Also, Odoo regularly sees new updates roll out from time to time.
Security: Security vulnerabilities are one of the top concerns in this digital age. With Odoo, your confidential data and customer database are always secure. Also, being an open-source ERP system, errors or gaps in the source code are rectified almost immediately.
Low Cost: The Odoo community version is free to use, but it lacks certain features. While the enterprise version, with all its benefits, costs only 25$ per month. Which is a tiny portion of all the prices offered by other ERP services.
Customizable: Your developers have complete freedom to customize your business operations according to your needs. The source code can also be tweaked as it is an open-source ERP system.
Easy Integration: Odoo eCommerce software has a friendly Application Programming Interface (API), making it conveniently compatible with other ERP systems.
As a trusted and leading eCommerce solutions company, we know the importance of choosing the right ERP service for your business to flourish. And we believe Odoo is the go-to platform for all your business needs.
"This system is revolutionary. The advantages Odoo has are comparable to none other. It covers all sides of the workflow for any company: manufacturing, accounting, taxes, HR and so much more. It's certainly making its mark on the market worldwide. Since the last couple of years, we have seen the need for Odoo developers increases significantly."
What are the top Odoo ECommerce features?

Odoo eCommerce is always evolving, bringing in new and enriched features. As of now, here are the top features that make it a one-stop framework for all-around business management.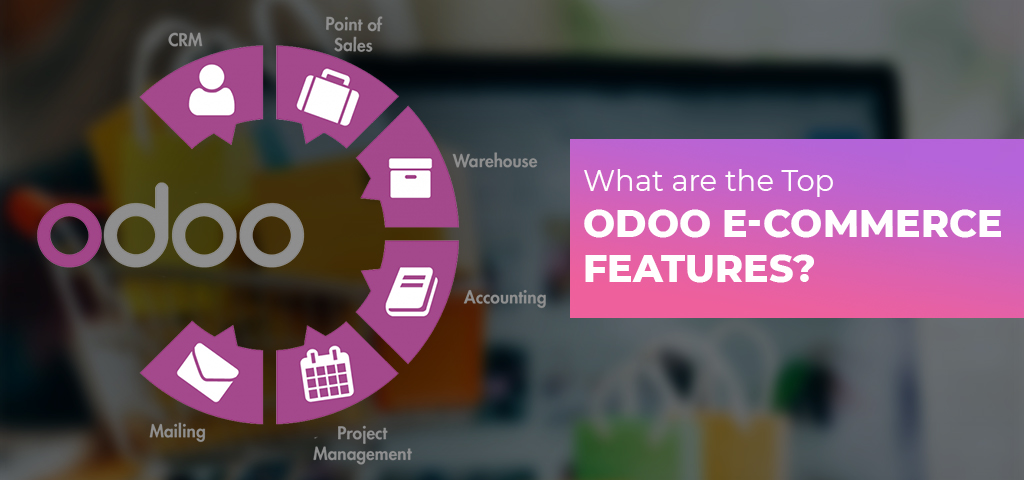 Odoo Website Builder: You can create and maintain your online store with Odoo eCommerce website builder. The Content Management System (CMS) makes it fairly easy to edit designs and texts, and at the same time, manage multiple websites comfortably.
User Interface: It has a simple and interactive UI which makes it easier for customers to find what they are looking for. This feature is designed specifically to maximize sales and provide an unforgettable experience which in turn increases repeating customers.
Business Intelligence (BI) Tools: A wide range of BI tools that cover every department and aspect of your business. From data analysis to communication, Odoo has a tool, module, or plug-in for everything.
Production Management: Odoo manages your Bill Of Materials (BOM) and streamlines the steps of production, with an efficient tracking system for your work orders.
Warehouse Management: Odoo eCommerce has the capacity to manage and track multiple warehouses and their inventory, regardless of the company size or complexity.
Sales Management: Sales directly affects the productivity of a company. Odoo eCommerce features a way to analyse customer behaviours and segregate orders in terms of importance or quantity, and thus creating a seamless structure for your entire retail process.
Accounting: Odoo eCommerce features a smart reconciliation tool to keep the balance sheets air-tight. It has accurate managing and tracking of payments, bills, and expenses, along with automated tax inclusions.
Customer Service: Odoo's customer portal features an intuitive way for your customers to track the payment, delivery, and shipping status of their orders. The Customer Relationship Management (CRM) system can automatically manage tasks like communication, prioritization, notification, customer identification, etc.
Moreover, it can also connect you with your customers and answer their queries in real-time using Live Chat, and thus help boost customer relations and sales.
In-built Blogging: Blogs are a great way to stay in touch with your customers. Through blogging, you can increase the reach of your company on search engines and also get the message across to your customers effectively.
Search Engine Optimized (SEO): You can customise your meta tags, H1, and titles for SEO purposes with Odoo eCommerce development. This feature makes it easier for your company to be found by potential consumers on search engines.
Also read: Future of eCommerce: 7 Most Popular eCommerce Trends
Some useful features that were added in later versions:
IP Tracking: An IP-based lead generation feature mainly used for B2B industries. The IP addresses of website visitors are tracked and matched with specific businesses. This process yields more information and tells you more about the interests of your visitors.
Shipping Integrations: Numerous shipping carriers are integrated for impeccable delivery service. Carriers like UPS, USPS, DHL, FedEx, and many more.
Discount Module: Odoo eCommerce makes it easier for you to promote sales and give discounts to your customers with this new feature.
Data Cleaning: Automatically removes duplicate or redundant data.
Snippets: You can add a wide range of snippets to different sections of your website for personalising the user experience according to your needs. For example, snippets for charts, timelines, pop-ups, masonry, product list, etc.
What is Odoo Studio?

Odoo Studio is a part of Odoo specially designed for creating powerful and intuitive applications for businesses. Some features of Odoo Studio:
You can use Odoo Studio to build desktop and mobile apps with ease.
You can build a customized application within minutes, with no coding required whatsoever.
Switch to developer mode to obtain and edit technical details.
It can be used for all types and sizes of businesses.
Some of the components of Odoo Studio: Forms, lists, grids, graphs, calendars, custom pivot tables, and charts.
Read more: WordPress VS Shopify: which one to pick for successful eCommerce development?
Let's look at some large-scale business hurdles that Odoo eCommerce has solved for some of the MNCs
Odoo ECommerce Success Stories:
Toyota
Toyota corporation has a material handling division in France, which manufactures and sells forklifts and trucks. It experienced organizational changes and needed some restructuring for efficiently managing distribution and supplier units in France, Italy, and Sweden.
Toyota material handling units needed a way to easily track orders, invoices, purchases, production, and shipment. Replacing the entire system was too much of a risk for such a competitive company. And conventional ERP systems did not match their needs.
After a lot of planning, Toyota decided to solve their problems with the help of Odoo eCommerce development.
Odoo Sales was implemented to track and manage orders;
Odoo Inventory was put in place to make sure the availability of products after orders are placed;
Odoo Manufacturing was added for streamlining the production of forklifts and trucks;
Odoo Purchase was implemented to manage the import of products from countries like the USA, China, and Japan;
Odoo Accounting was used to invoice customers straight from Odoo.
It took only six months for Toyota to implement and integrate the Odoo eCommerce solutions. Not only did it help them overcome all of their business hurdles, it even saved them a lot of valuable time and management costs.
The employees could easily adopt the Odoo eCommerce because it was integrated with their existing legacy system. They eased into the implementation of Odoo eCommerce development in every component of their business slowly.
Confetti
Founded in 2006, Confetti is Finland's biggest shop for baking and party supplies.
As the company grew, it needed an ERP solution for efficient data management and automation of purchasing and inventory.
Along with many other reasons, the Odoo eCommerce system was mainly chosen by Confetti for its Point Of Sale (POS) systems for the stores.
Odoo Data Management: Information regarding products, customers, prices, and suppliers were easily tracked and managed using Odoo eCommerce development;
Odoo Warehouse Management: They used Odoo eCommerce features to automate their shipping and stocking, along with multi-warehouse management. It was also used to trace food products with expiration dates;
Odoo Purchase Management: Seamless communication with the suppliers was achieved with Odoo eCommerce development. Tracking the import of sales orders became relatively easy;
Odoo Pricing Management: A coherent pricing system was formed with the help of Odoo eCommerce features and modules. Prices and price lists had to be entered just once. Tax and currency issues were also easy to manage after implementing Odoo.
Customer satisfaction soared due to the seamless user experience offered by Odoo eCommerce development. All of their issues were resolved and the processing time of purchase orders was reduced by more than 50%.
Wrapping up
The growth of your company depends on how well you can manage daily operations. A growing business brings forth many complexities, and Odoo has the capabilities to easily handle them all.
Odoo ECommerce features and tools can cover all of your day-to-day business needs efficiently. It provides you with a streamlined structure for your business and thus helps provide your customers with a seamless user experience.
This gives you the freedom to control and plan your company's growth. With the number of modules, features, and plug-ins available at such a low price, it surely is the best business management tool.
If your growing company needs an extra pair of hands, and if you need an Odoo eCommerce implementation partner, contact us!
With 15+ years of on-hand experience, Communication Crafts can provide exceptionally skilled Odoo developers. From small-scale website development to large-scale eCommerce development, our Odoo developers are at your service.
Keep calm and Odoo!
Looking for a team of the best remote developers?
You're in the right place!