As the digital age keeps growing, the options for building eCommerce stores are getting much better and simpler.
Online consumerism is the main focus for modern business owners. Hence, new and improved eCommerce development platforms are emerging as a result.
The market of eCommerce has been growing at an exponential rate since the start of the digital era, and the covid-19 outbreak has made it almost mandatory for businesses to invest in eCommerce. Online stores are the new normal for new-age businesses.

Image source: Techtimez
Magento and Shopify are two of the most trusted and leading eCommerce development platforms in 2021.
It's a no-brainer that business owners must gain a deep understanding of eCommerce development to successfully start an online business.
In this blog, we'll go over a detailed comparison between two of the best eCommerce development platforms, Magento VS Shopify, and answer frequently asked questions like:
What is the difference between Magento and Shopify?
Is Magento the same as Shopify?
Which is better, Magento or Shopify?
What is the Shopify VS Magento market share
Without further ado, let's dive in.
Introduction: Shopify VS Magento
Let's understand the basic definitions of two of the best platform for eCommerce in 2021- Magento and Shopify.
What is Shopify?
A new-age online store for modern businesses.
Shopify is a cloud-based software that simplifies online store development for eCommerce businesses. An all-inclusive eCommerce platform that works on a monthly or yearly subscription model and SAAS service model.
Founded in 2006 by Tobias Lutke and Scott Lake, Shopify is the ideal choice for many eCommerce developers because it eliminates the need to learn to code and delivers outstanding online retail experiences.
What is Magento?
A flexible eCommerce platform for growing businesses.
Magento is an open-sourced eCommerce development platform with splendid content creation and promotional features. Written in PHP, it can be used for building highly customizable online stores.
Introduced in 2008 by Varien, Magento was acquired by Adobe for $1.68 million 10 years later, delivering highly scalable long-term online stores with a professional look.
Popularity: Shopify VS Magento
Google trends represent the popularity difference between Magento and Shopify in terms of most discussed or most searched:

Magento was leading the Google trends race by a large margin since its inception. However, Shopify has gradually gained more popularity, advancing to first place after 2020.
Popularity in terms of usage can be determined by studying the stats given by BuiltWith.
A representation of the technologies used in the top 1 million websites around the globe.

Image source: BuiltWith
This image provides a precise representation of Shopify VS Magento market share.
Shopify leads this category with a total of 26,000 top 1 million websites, while Magento is used by 11,000.
Being an all-inclusive online store creation software, Shopify is responsible for around 25% of websites on the entire internet, making it one of the most prevalent technology for building websites.
Ease of Use: Shopify VS Magento
Magento and Shopify, both are fairly simple to use with efficient user interfaces to simplify building websites and online stores.
Shopify provides a drag and drop feature along with a wizard mode, making it easier for novice developers. An easily customizable option to quickly set up a functioning online store for new business owners.
Although Magento is open-sourced and more flexible, it is not a hosted eCommerce building platform, unlike Shopify, making it much more tedious and difficult to use for new users.
Shopify is the victor in the category of "ease of use" as it is extremely simple and convenient for new users.
Pricing: Shopify VS Magento
Magento is a free to download and use platform for eCommerce development. Aspiring eCommerce business owners can set up and launch their online stores without any payments.
It is a free eCommerce platform, but it requires payments for additional features and hosting nonetheless. Purchasing a domain and a hosting provider is the user's responsibility. Additionally, payments are also required to use Magento to its fullest potential with different app integrations and add-ons.
On the flip side, Shopify works in a subscription-based payment model. There are 5 different versions available for monthly subscriptions, providing an all-inclusive solution for eCommerce development.
However, Shopify requires additional charges for different themes, which is cheaper than the themes available in Magento in most cases.
Here's a list of Shopify monthly subscription packages:

Image Source: Litextension
Basic Shopify: ideal for starting businesses with core functionalities;
Shopify: Best for growing businesses with high scalability;
Advanced Shopify: Provides more functionalities and features for mid-sized to enterprise-grade businesses;
Shopify Lite: The cheapest option for opening up an online store with limited options for scalability;
Shopify Plus: The high-end option for enterprise-grade eCommerce businesses.
Themes: Shopify VS Magento
Shopify has a few free themes and templates to choose from and 64 premium ones. These themes cost around $100-$180 for building a beckoning online store.
Benefits of Shopify themes:
Drag and Drop feature
Mobile-optimized themes
Easy to add new web pages
Colour customizations to fit your brand's personality
Easy social media integrations
Magento offers 10 premium themes which cost up to $500. These themes are completely mobile-friendly and highly appealing for attracting online consumers. The Magento 2 version offers many more themes.
With knowledge of coding or a well-versed developer, you can even create your own theme on Magento.
Benefits of Magento themes:
Easy tweaking and customization options with technical knowledge
Lets you add animations to attract more online consumers
Homepage product slider option
Offers additional footer space for newsletters
Cross-selling blocks for product pages
Shopify may offer a wider range of themes for building online stores, Magento provides more flexibility and customizations for delivering a completely personalized user experience.
Apps & Extensions: Shopify VS Magento
Themes may define the look and feel of your eCommerce business, but add-ons broaden the functionalities of your online store.
The in-house app store of Shopify offers more than 1,200 free and paid apps for different functions such as shipping, marketing, social media advertising, etc.
Some of the most used Shopify apps:
Trust Hero
Trackr
MailChimp
Analytics Buddy
The Magento Marketplace has more than 5,000 extensions in total and approximately 2,000 extensions are free of cost, providing a wide range of functionalities.
Some of the most used Magento extensions:
Multi Vendor Marketplace
Remarkety
Banner Slider
Product Pre-Order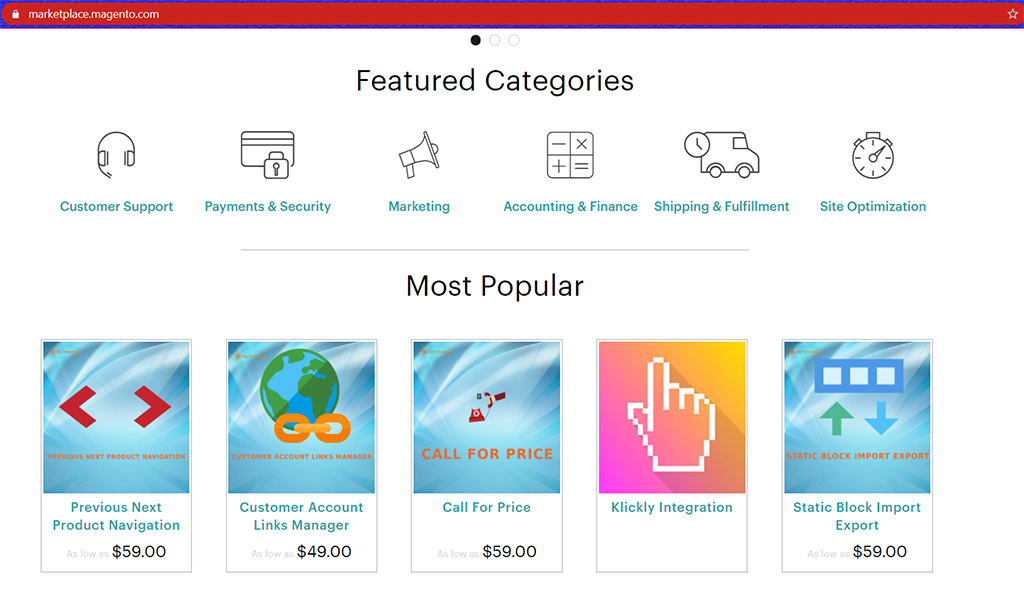 SEO: Shopify VS Magento
SEO is crucial when it comes to running an eCommerce business. Your online store needs to rank high on SERPs to attract online consumers and boost organic traffic.
Shopify relies on add-on apps for SEO functionalities. Customizations for SEO purposes are limited when it comes to Shopify eCommerce development.
On the other hand, SEO is one of the major benefits of Magento eCommerce development. Magento has in-built features that let you customize and edit URLs and image alt tags freely.
Magento offers in-built SEO features, while Shopify is reliant on add-on apps for SEO functionalities.
Complete Comparison: Magento or Shopify
Here's a detailed account of the difference between Magento and Shopify:
Pros and Cons Magento VS Shopify
Advantages: Shopify VS Magento
Major benefits of Shopify:
Beautiful and visually appealing themes
All-inclusive eCommerce store builder
In-built app store for different functionalities
In-built security features
Effective customer support
Extremely easy to use
Many payment gateways
Major benefits of Magento:
Effective community support
High flexibility for personalized eCommerce development
Adequate themes and extensions, allowing animations for high engagement
Mobile-friendly
Open-sourced nature
Free to download and use
In-built SEO features
Disadvantages: Shopify VS Magento
Major drawbacks of Shopify:
Monthly subscription payment model with additional charges for themes
Difficult to modify website content for SEO
Limited customizations due to the closed-source nature
Subpar product categorization and filtering, deteriorating online retail experience
Major drawbacks of Magento:
Steeper learning curve
Requires more time to set up
Many additional charges required for themes and extensions
Lacks security features
Summary
Magento VS Shopify for eCommerce development has been a long-standing debate between business owners and web developers.
Although it's difficult to announce a winner between Magento or Shopify, the final decision boils down to your eCommerce development needs.
Magento is a more flexible and scalable eCommerce development platform for enterprise-grade businesses, while Shopify is an all-in-one eCommerce solution for new and growing businesses.
Our eCommerce development experts have compared every important aspect of Magento VS Shopify, and we hope it helps you make better eCommerce business decisions in the future.
If you have further queries or need assistance with eCommerce development, feel free to contact us.
Communication Crafts is an experience-led eCommerce development company with an enviable list of clientele. Our expert Shopify developers and Magento developers analyze your business goals and target audience to deliver cost-effective and future-proof eCommerce solutions.
Building your present, for a fruitful future.