A potential app idea needs the right development process to turn it a blooming business. It needs to be shaped and developed by the right person/team to turn it into the desired application. But how do you decide which one's better? Is there a layout that helps you decide between freelancers or an agency? Is cost-effectiveness the most considerable point? Well, it's totally your choice but there are surely some aspects to it that you should consider while opting for the perfect mobile app development company or freelance app developers.
Although there are tons of factors that you need to consider for your mobile application development, some of the most important factors that affect your choice between a team and a freelancer are.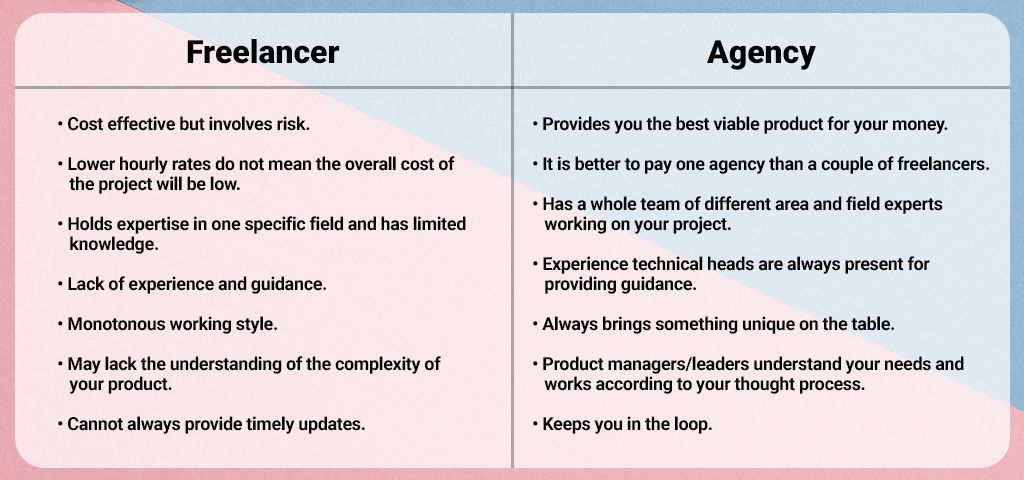 Now let's look at each of these points one by one and make it really easier for you to choose between freelance mobile app developers and mobile application development company.
The Costing
Well, who doesn't consider cost-effectiveness as one of the most deciding points for choosing between freelancer and mobile app development agency, but does it always deliver the desired results? We should not overlook the fact that the freelancer will charge less than an agency but will the freelancer be able to clearly understand your thought process behind the application.
We are not denying the fact that a freelancer will have lower hourly chargeable rates than compared to an agency but will the freelancer be able to complete the project in one go?! A lower hourly rate does not mean that the over-all costing of your project will be low, there are high chances of some technicality issues arising working with a freelancer and you might end up starting the application development process from zero again. Many companies have midway changed their freelancers, which has ultimately resulted in them paying more money to different freelancers than an agency.
Yes, working with a mobile app development agency has its own charges but with those charges comes expertise. Once you have hired the right mobile application development agency there's no checking up on them. They will surely deliver more than expected and desired.
The Expertise
Your application needs the right expertise for it to become viable and effective for the users. But where can you find this expertise? How can you know if the freelancer that you are hiring has adequate expertise in that field or if the agency that is developing your application has an expert team behind it?
A freelancer can be an expert in one specific area of mobile app development but it's not necessary that you are looking at that particular area of expertise. While with a mobile app development company, you are made sure that you have got a team of developers with multiple programming languages, designers, project managers, testers, and project leaders. The company will make sure that an expert in each area in the process of mobile application development is handling your application and that you get the desired results.
The Management/Accountability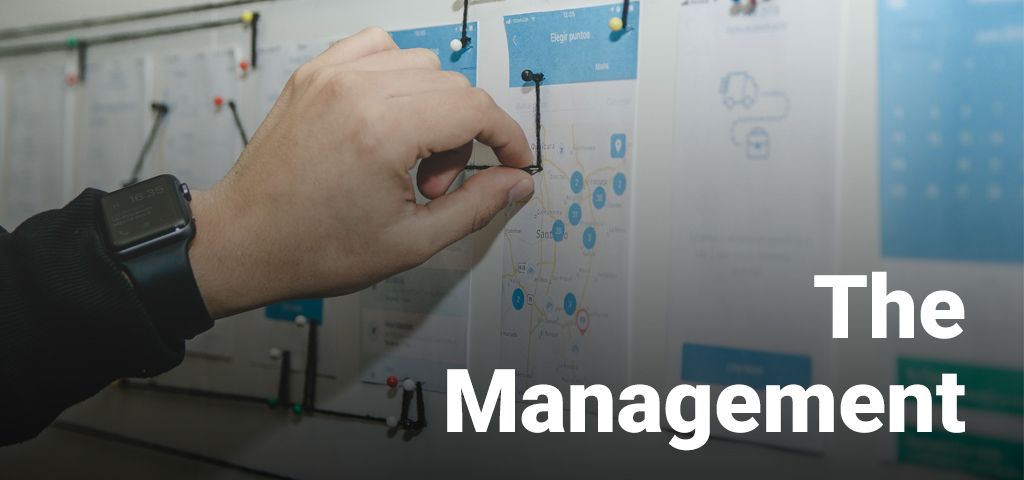 How much do you expect from a freelance mobile app developer? Really? Do you expect him to stay connected with you all the time and keep you updated with the developing stage of the product? Do you expect him to understand the most complicated idea of yours and bring it to life all by himself? Do you expect him to build it step by step and get it reviewed by you all the time? Well no, because these are different roles and a single freelancer or a team of freelancers may not be accountable to you at all times.
A mobile application development agency has its roles divided for your application development. we can't really speak up for all agencies but here at Communication Crafts, we follow a simple process of providing a Resource who will work on your project and give his best, an Project Manager who at all times will stay accountable to the client, and a Technical Head who makes sure that your desired product is delivered on time and that no mistakes are made.
If your idea is one in a million and you need the right mobile app development partner for it, make sure that you look at these points very intricately.
Do you have a fantastic app idea?
Hire the best mobile app developers to turn your ideas into reality.