Remote work always existed, but it came into the limelight in 2023
As a consequence of the global pandemic, decision-makers across the world quickly ran out of options and accepted, willing or unwillingly, the possibilities of the work-from-home concept, reshaping the tech industry forever.
The historical narrative of remote development goes back nearly 50 years. Jack Nilles, a former NASA engineer, coined the term "Telecommuting" and ignited the idea of Remote-Work in 1972. After years of sluggish growth, the remote-working trend finally sped up after the Covid-19 outbreak. With a dichotomy of opinions and experiences, some companies adopted it confidently, while others remain doubtful.
Fluid Workplace – A popular choice in the IT industry
The pandemic has tipped the scales towards a remote-friendly world. The State of the Octoverse report 2021 by GitHub unveils work preferences before and after the pandemic.
Source: GitHub
Out of the 12,000 developers surveyed,
– 10.7% of developers expect to work from the office after the pandemic.
– 46.6% of developers expect a hybrid work environment.
– 38.8% of developers expect to work fully remote.
A vast majority of developers prefer a fully remote or hybrid work environment, highlighting the importance of fluid workplaces in the post-pandemic era. And the Future of Work survey by Growmotely accentuates it even further:
– 76% of entrepreneurs & 74% of professionals believe that remote work will become the new normal.
– 97% of entrepreneurs & professionals want to continue working remotely in the post-pandemic era.
– 61% of employees prefer a completely remote work environment.
Fluctuations in Remote Productivity
The ACM Digital Library survey paints a clear picture of the changes in productivity while working remotely:
Source: ACM Digital Library
A majority of developers reported that the productivity level stayed the same or improved (62%-68%) in both surveys. Nevertheless, a considerable percentage of developers claimed that they felt less productive (32%-38%).
Balancing the Imbalanced in the New Remote Normal
The opportunities of remote work in software development can easily outweigh the drawbacks.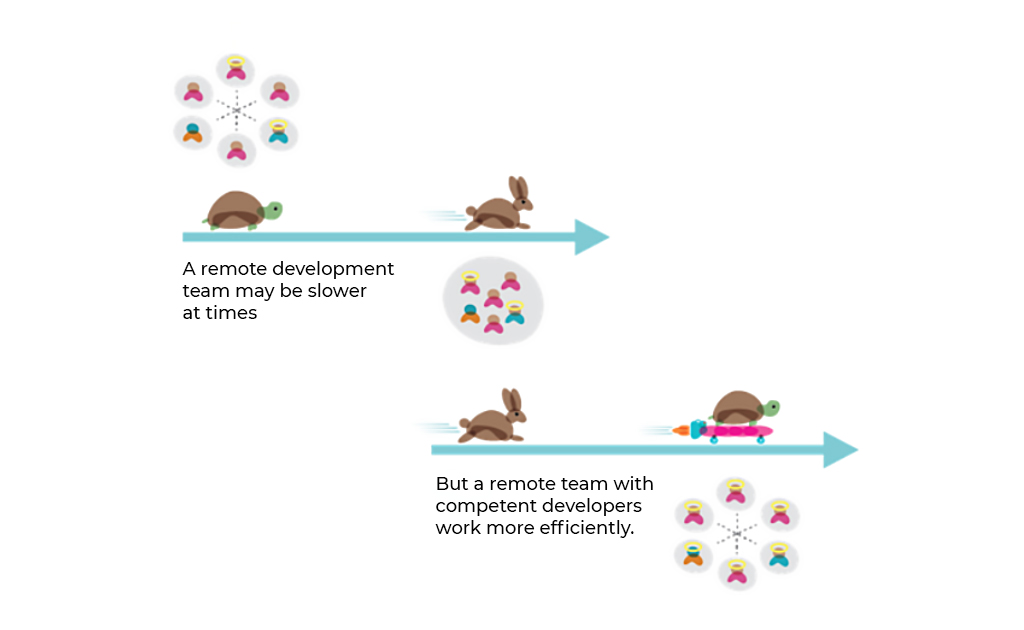 A remote development team can be as efficient as a colocated team, if not more so. With quality sourcing, rigorous vetting, dedicated project managers and seamless communication, IT outsourcing agencies can meet the escalating demands for software development with ease.
But what constitutes a well-oiled remote ecosystem in the IT industry?
Build a network of the industry's finest remote developers through elaborate screening.
Assign dedicated managers for each project to ensure optimum performance accountability.
Maintain effective communication channels to keep the clients in the loop at all times and facilitate a transparent development process.
Eliminate the time difference issue by building a team that works across multiple time zones, with at least 4 hours of overlap.
Employ visionary leaders who can direct the team members, and inspire them to take initiative and innovate.
An IT outsourcing agency can transform itself into a full-fledged technology partner and help businesses across the globe by following the 5 points mentioned above.
And what are the key benefits offered by a fluid workplace?
Remote-friendly organizations can expand their search and find the best developers without geographical limitations, a win-win situation for employers and employees.
Remote work helps outmaneuver unfair work environments and biases. In a remote environment, the behavioral traits of employees get rather sidelined and the work gets more focused on results.
Last but not least, it can help eliminate employability barriers for people with depression and anxiety, letting them work comfortably from wherever they prefer.
In a nutshell,
Remote work is a multi-faceted concept, there are countless strategies that an organization can adopt to integrate remote developers seamlessly.
With the technologies and platforms we have in place in the post-pandemic era, success through remote collaboration is easily achievable.
Effective communication, minimized distractions and satisfied employees are some of the perks that can be unlocked with a well-managed fluid workplace. From entrepreneurs to enterprise owners, companies with effective remote working patterns have a significant competitive advantage for the foreseeable future.
Ignore it or adapt with it, the remote revolution is here to stay.
Looking for exceptional remote web developers?
We've got you covered.
.