Small Businesses are the Heart of America's growth.
The importance of small enterprises to the US economy cannot be overstated. According to the U.S. Small Business Association (SBA), small firms with 500 or fewer employees make up 99.9% of all businesses in the nation and 99.7% of businesses with paid employees.
Since 1995, small businesses have created two-thirds of all net new jobs. Small business employment must be robust for the labor market as a whole to be in excellent shape.
In the end, we all want our businesses to keep their spirits up during the Recession.

The world is still recovering from the pandemic and, regardless of size, location, or finance, the COVID-19 pandemic has undoubtedly increased the challenges faced by small businesses worldwide. The Internet has indeed played the role of a rescuer during those tough times for small business owners.
But before we talk about ways to prepare for a recession, let's first answer a very important question:
Is a Recession coming for Real?
A recession is a significant downturn or decline of the economy. Generally, a huge fall in spending. Such a slump in economic activity may continue for several quarters, entirely limiting an economy's progress. Economic metrics like the GDP, company profits, employment, etc. decline in such circumstances.
The U.S. GDP contracted at a seasonally-adjusted annual rate of 0.9% in the second quarter of 2022, after dropping by 1.6% in the first quarter of 2022.
Roach notes that American businesses are still recruiting and that Americans are still making purchases.
In August, the U.S. economy added 315,000 jobs, and the unemployment rate is now practically at its pre-pandemic level. A U.S. recession usually does not correlate with such a healthy job market.
Recession forecasts are ticking up day by day.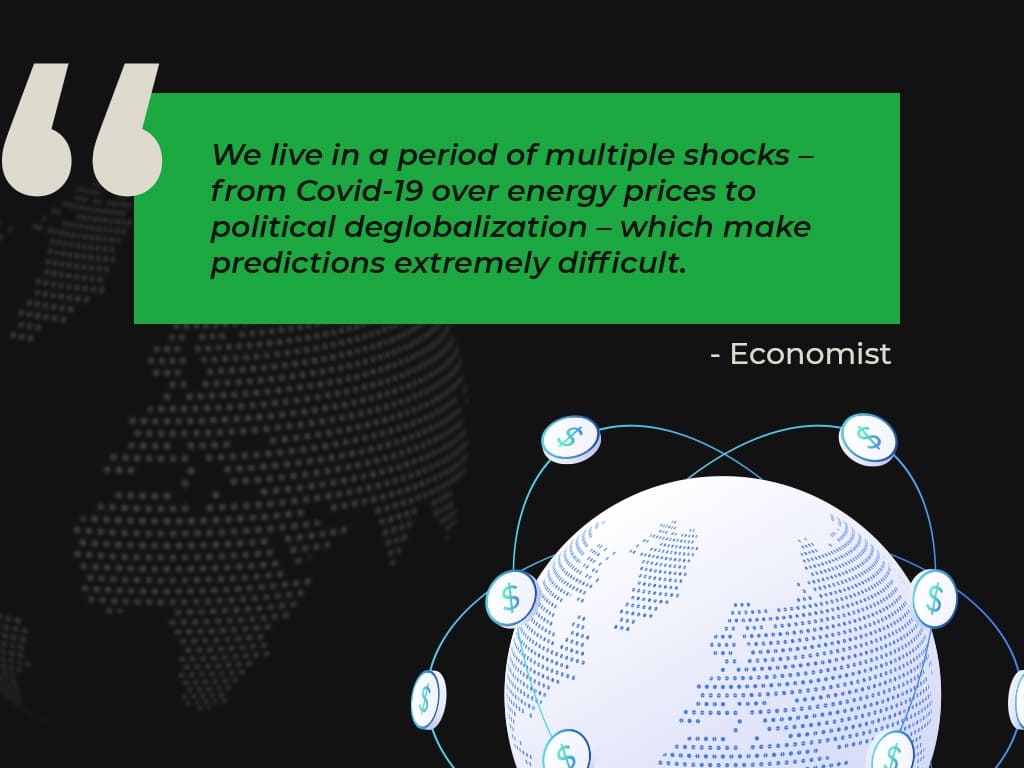 As quoted by former Reagan economist and hyperinflation expert Recession odds just skyrocketed up to 80%.

The chances of a recession within a year were 45%, according to a Reuters Survey, while a Bloomberg survey put the probability of a downturn at 47.5%.
Predictions for recessions are clearly giving mixed signals, but it's better to stay prepared in advance for the tough times.
Wait, WHAT? Recession with a Positive Adjective!?
An economic recession is difficult for anyone, but especially for small businesses. However, Some experts say that economic downturns can present the best opportunities for growing a business. Small enterprises can not only survive but also thrive in challenging economic times.
Let's find out HOW to make lemonade out of lemons in this recession
Focus on Cash Flow
Strengthen your cash reserves
Check your insurance
Keep a track of your collections
Be Adaptable and Updated
Keep your Digital game strong
Focus on Cash Flow
Cash Flow timing can make or break your company. Cash flow management becomes even more crucial during a recession, and practicing prudence may help a company survive a difficult economic period. To gain control over your company's cash flow, review your current cash flow statement daily and begin projecting with trailing 3, 6, and 12-month cash flow prediction charts. You can use these charts to predict when finances will be tight so that you can put precautionary measures in place to avoid crises.
Strengthen your cash reserves
Having a cash reserve is a priority. And savings will definitely help you pass tough times easier. There are several ways to maintain and strengthen your cash reserves, like setting up a
Realistic budget,
Monthly Targets,
Constant Monitoring,
A crisis plan
And most importantly, eliminating unnecessary expenses.
Check your insurance
Check your insurance and find out if it can cover the estimated loss or not. One specific thing to look out for is a business interruption policy. Business interruption insurance is made to protect companies from the revenue loss brought on by a catastrophe.
Keep a track of your collections
A recession makes everyone struggle financially. It is easy to let your receivables linger a little longer than required when things are going well. But during a downturn, customers might pay more slowly making it difficult to keep track of accounts receivable. Make prior efforts to assess your customers' payment practices. Schedule contract renegotiations as soon as you can to close your pay cycles. Offering different modes of payment can help you collect your receivables.
Be Adaptable and Updated
Your business strategies may have worked in the past but not necessarily will work again in present types. Redefining and refining strategies, keeping in mind the present economic climate, is crucial.
Keep your Digital game strong
It's critical for businesses to take every step possible to maintain their edge presence with customers during a recession. In the Age of Digitalization, having a strong online presence is important and beneficial. Keep enhancing your website, social media presence, emails, newsletter, and anything possible that helps you stay connected and updated with potential customers.
Final Thoughts
As a small business owner, recessions can be frightening. However, they frequently present opportunities for business optimization. After a recession, you can gain confidence in your abilities to manage your company and boost profits.
The right decisions will indeed position you for success in your business both now and in the upcoming years, so brace for impact and emphasize what you can manage.
Supporting a small business is supporting a dream. And supporting your small business with IT infrastructure and digital marketing are two main pillars that help fuel the growth of a small business. Outsourcing your IT & digital marketing needs can be the best way to tackle your software development requirements, and also connect with your target audience easily.
At Communication Crafts, you could discover all the top-tier software engineers, online & mobile app developers, and development expertise you need. With our state-of-the-art business services, we can help you rightly grow your business and take your business to new heights.
Got Development Problems?
We've got Development Solutions!