Wallet apps have changed the way financial transactions are carried out. The ease and convenience it provides to the end-users is unparalleled compared to paying with credit and debit cards or cash.
From grocery shopping, entertainment, e-commerce, restaurant payments, or any other bill payments, digital wallets have become the preferred medium of carrying out financial transactions.
Although direct cash & credit card payments are never going to be out of sight, with the introduction of contactless digital wallet transactional apps like Apple wallet, Android pay, Samsung Pay, and Google Pay- people have found their financial transaction journey not only gets better but much faster and simpler. Being the reason why mobile wallets users continue to increase at an unprecedented pace. And that's the main reason fueling the popularity of FinTech apps in the market. mobile apps are leading the successful digital transformation of the online payment market.
Let us go in-depth and see how you can create a great digital wallet.
What is a mobile wallet?

A mobile wallet (or eWallet) is a financial app that stores users' payment information (credit and debit cards information), user's contact list to cashless money that enables businesses and individuals to send money and receive money via mobile devices quickly.
For people, mobile wallets have paved an easy way to pay bills or transfer money within a matter of seconds.
And with wallets apps like Apple Pay, Samsung Pay, Google Pay- people have found secure digital wallets.
But still people keep asking us:
Is Apple wallet safe?
Is Samsung pay safe?
Yes, they are. All apps on your iPhone or iPad that you have downloaded, follow certain security protocols only after which they are authenticated for download on the App store. To be crystal clear, Apple secures your wallet data by encrypting it when it's kept on Apple's iCloud servers.
Similarly, Samsung uses tokenization to secure your personal and financial information.
Ensuring impregnable security measures in place for mobile wallets is as important as providing the end-users with a great overall experience.
If you're looking to create a great digital wallet app, here are important things to keep in mind for your eWallet development ( or app development) that'll help you create a great app people love to use.
Key Features to Include in Mobile Wallet Apps
User-friendly Dashboard
We live in a world where user experience can break or make a business. And that's why you need to be on the top of your game when it comes to creating a great UI/UX design for your wallet app.
Creating an intuitive, user-friendly interface that users can easily navigate through, perform their required tasks quickly and keep track of all financial records in a seamless fashion has become integral to digital success.
Mobile wallet app solutions need to be designed specifically to provide users with a great app journey.
Wearable Device Integration
There has been great technological advancement in wearable technology. Wearable devices such as Apple watch, Samsung watch are not just limited to fitness tracking and other limited features anymore. Contactless payments through wearable devices are a thing now.
Contactless payments are possible due to the NFC (near-field communication) technology. Just like contactless debit and credit cards, wearable devices have an NFC chip embedded in them that enables the transaction to take place when the user taps their wearable device on the digital reader.
Spending Analysis
How many transactions did the user make in a certain period? How are they spending their money?
Allowing users to analyse their financial data by integrating analytic functions to the mobile wallet app will help users spend better and make better financial decisions.
Privacy & Security
An e-wallet user naturally will expect peace of mind regarding the mobile app's security. Mobile wallet app developers must integrate the latest mobile security measures in place: form OTP (one-time-password) authentication, touch id, tokenization measures, advance data encryption measures to ensure secure, fast and efficient payment transfer.
Do not forget to include a digital receipt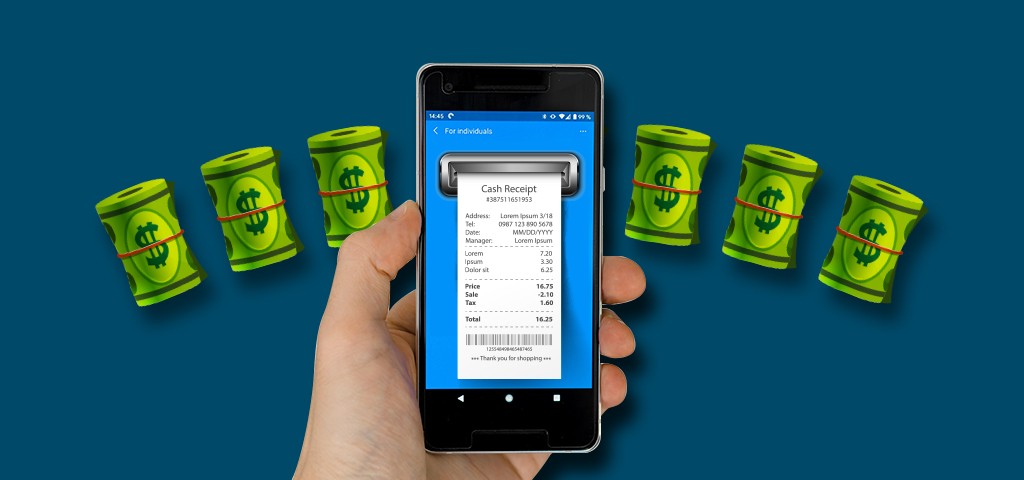 After every transaction is completed, users should be notified of whether the transaction was successful or not.
Hence the need to generate a digital receipt arises. Whether the end-user receives it through email or in the app itself, you would need to create digital solutions to adhere to their needs adequately.
Apple wallet app doesn't by default provide a digital recipe since Apple Pay has strong privacy measures built-in- doesn't collect transaction information. But if you would like one, you can request one during making a purchase.
Coupons, Discounts & Rewards
This is one of the best ways to engage your customer base and keep them using your mobile wallet app.
By providing rewards, loyalty cards, gift cards, event tickets, discounts coupons for other third-party products, or cashback on specific payments and utilities, your app can gain an extra edge over other competing wallet apps.
Take Google Pay for instance, after certain transactions the user makes, it rewards them with a 'Scratch Card' in which they can get cash rewards.
Including rewards and other promotions is going to be one of the top digital wallet trends in 2021.
Function prioritizing
There are different features and functions for different mobile wallet applications.
You need to do thorough market research and analyze which technologies and digital solutions cater best to your business needs carefully. So that you can integrate the right functions and features, as they'll be eventually making your digital payment app successful.
Do thorough market research, and learn customer expectations, demands, and the market trend prevailing before you build a mobile wallet app.
Final Thoughts
The features we mentioned in this article, stress the importance of building a customer-centric mobile wallet app that makes carrying transactions quick and simple.
Thus, if you're looking to develop a great e-wallet app, hire the best mobile app developers who have proven experience creating state-of-the-art digital transactional apps. So that you can provide your users with a great experience. Ultimately, that's what's going to make them keep coming back to use your mobile wallet over your competitors.
Looking for a team of the best remote developers?
You're in the right place!