No business can escape the trend of eCommerce anymore. Having a fully functional online store is a basic requirement for every business in the digital era.
Companies are always in search of improved ways to develop eCommerce stores for better customer engagement and brand recognition. Currently, WordPress is the go-to choice for eCommerce development around the world.
WordPress accounts for a staggering 62% of all Content Management Systems worldwide.
As the popularity of WordPress increases, the demand for WordPress specialists is on the rise as well. Even though there are countless developers available to work, finding the right WordPress development agency with experts is an extremely difficult process.
That's why we came up with this blog to help you find the best WordPress developers. Read further to find answers to questions like:
What is WordPress?
How long has WordPress been around?
Why choose WordPress?
What are the ways to find top WordPress developers?
What are the things to consider while shortlisting the top WordPress development companies?
What is WordPress?
WordPress is free to download and use platform for eCommerce development. Due to its highly customizable open-sourced nature and efficient content management system, WordPress is one of the most popular platforms for blogging.
WordPress uses a highly sought-after plug-in known as WooCommerce for eCommerce development. WooCommerce can be used to create full-fledged online shops for full-scale eCommerce businesses.
How long has WordPress been around?
Approximately 18 years, it was introduced in 2003 by Matt Mullenweg. WordPress uses MariaDB and MySQL database and it is written in PHP programming language.
WooCommerce, facilitated by WordPress is the leading eCommerce development platform in 2021 with approximately 25% market share globally.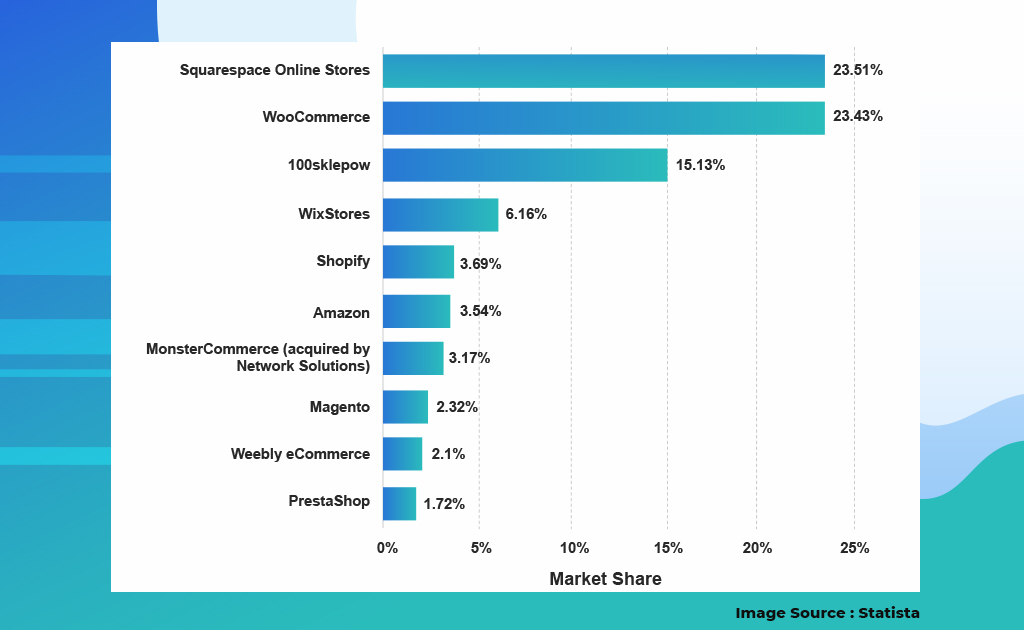 Image source: Statista
WordPress has more than 455 million websites around the world.
Here's a graphical representation of WordPress usage in different categories of websites (Top 10k, top 100k and top 1 million) by BuiltWith:

Image Source: BuiltWith
WordPress pricing is simple, it does not require any initial fee. However, you are responsible for hosting and purchasing the domain name along with other payments to unlock certain plug-ins, themes and extensions while using WooCommerce through WordPress.
Apart from an all-inclusive eCommerce development platform like Shopify, the usability of WordPress is unparalleled.
You can setup WordPress in 4 simple steps:
Get a domain name and hosting account;
Install WordPress;
Install a preferred theme in WordPress;
Install WooCommerce plug-in and start building your online shop.
Before we discuss how to find the best WordPress Developers, let's understand why choose WordPress.
Ways to Find the Top WordPress Developers
There are three ways to find the best WordPress website specialists:
Full-service WordPress development agency;
Hire in-house WordPress specialists;
Hire freelancing WordPress specialists.
Full-service WordPress development agency
Partnering up with a full-service WordPress development agency is the safest and most efficient option for hiring WordPress website specialists.
Opting for a WordPress development company eliminates the time-consuming hiring process. You get access to skilled WordPress developers from the chosen web development company.
This is an ideal option if you prefer a team of highly skilled WordPress specialists developing your projects, attaining maximum ROI.
Most business owners ignore this option because of its high cost, which is more expensive than freelancers, but the benefits of a WordPress development agency produces satisfying value for money. However, partnering with a full-service WordPress development company is not viable for short-term projects.
The benefits of a WordPress development company:
Flexible WordPress development services depending on your web development requirements.
Systematic, effective and focused delivery by dedicated WordPress developers.
Saves time by eliminating the hiring process, enabling remote work immediately.
WordPress developers from a web development agency can easily become a part of your existing workforce.
Skilled WordPress specialists from an agency can provide you with high-quality work and impactful results.
A WordPress development agency becomes a long-lasting part of your organization, facilitating regular updates and maintenance.
Clutch is one of the best platforms to look for WordPress development services and companies. It provides precise and honest reviews of WordPress development companies along with portfolios and client testimonials.
It includes important attributes of the agencies like: Average hourly rate, number of employees, client focus, development focus, industry focus, etc.
Before we discuss the best WordPress development company, let's examine the important things to look out for while choosing a web development agency.
Hire in-house WordPress specialists:
The process of hiring in-house WordPress specialists means going through a complete hiring process with defined budget plans and job offer advertisements to recruit new employees in your existing team.
There are different employment platforms for job hunting that you can utilise for shortlisting in-house WordPress website specialists:
Glassdoor connects you with business owners and employees from around the world. Making it easier to find suitable candidates with filters and advanced search.
LinkedIn creates a professional network for employment and promotional purposes. You can search and shortlist ideal candidates with impressive CVs and experience.
Indeed is a job-hunting search engine that lets you access a wide range of job opportunities, allowing in-house hiring at your fingertips.
In this option, the WordPress development services are fully under your control. Also, the newly hired in-house employee becomes a part of your workforce, enabling streamlined and easy communication.
However, the screening, shortlisting, interviewing process for in-house hiring is quite lengthy, making it arduous and time-consuming. Also, the whole process may end up being futile if the new employee doesn't fit in with your existing team.
Hire freelancing WordPress specialists:
If you're looking for a temporary employee as a web developer for just a couple of WordPress projects, then looking for freelancing WordPress specialists is the way to go. The search process is comparatively quicker than in-house hiring as there is an abundance of freelancing WordPress developers online. Although, searching for high skilled developers is getting increasingly difficult with the ever-increasing online clutter.
You can explore various platforms like Upwork, Toptal and Fiverr for hiring freelancers.
In scenarios with a restricted budget for short-term WordPress development, freelancers are the best way to go. $15-$55/hour is the average wage of web developers.
Hiring freelancing WordPress specialists is pocket-friendly as you pay by the hour. Nevertheless, this option also includes a lengthy hiring process and the new hire will not be a part of your web development team, deteriorating communication and teamwork.
Top Things to Consider While Choosing a WordPress Development Company
The WordPress development agency compliments your web development strategy
Define your web development goals and match them with the portfolio of the WordPress development agency. Consider the following before finalising an agency:
Website migration
Data integration
Content strategy
SEO-based strategy
All-inclusive payments
Website accessibility
Website security
If the above-mentioned aspects of web development meet your needs and requirements, then you may proceed.
Check client testimonials and portfolio
Reading portfolio and testimonials thoroughly provides an in-depth insight into the company's experience and expertise in WordPress development.
Effective and active communication
The WordPress development agency must be available to you at all times. Successful web development heavily depends on efficient communication between the client and the agency. Emergency changes, feedback and updates are always going back and forth between them, accentuating the importance of communication.
Steps for effective communication:
Appoint a coordinator to convey messages between the client and the agency
Get to know the WordPress development team from the agency
Build a communication schedule for 100% availability
Make sure that your WordPress development specialists from the agency respond to feedback effectively and quickly.
Technical competence
Make sure that the WordPress specialists from the agency are skilled in other programming languages and web development platforms like PHP, CSS, HTML, JavaScript, Angular, React, etc.
The size of the agency
The workforce of the WordPress development agency determines the magnitude of resources it has to offer. If your web development project is highly complex and requires a lot of resources, then the size of the WordPress specialist agency matters.
Return on investment
Study the quality of work produced by a WordPress development company to measure it against the possible revenues generated by the project. The quality of the eCommerce website and its ability to drive sales defines the top WordPress development companies.
Conduct rigorous research on the cost VS value of the top WordPress development companies' before spending your money.
Benefits of WordPress Business Development
Why choose WordPress among other eCommerce development platforms is a frequently asked question by business owners. Here's a list of WordPress advantages to better explain its significance:
User-centric pricing of WordPress is one of its core benefits. Start-up companies can build a brand new online shop for free using WooCommerce, and gradually make purchases to scale their eCommerce retail businesses.
Rapid development speed with a reasonable learning curve.
Open-sourced nature provides complete freedom to customize WordPress developers.
Flexible inventory management system, giving you complete control over inventory reports and product listings.
The SEO-friendly nature of WordPress lets you optimise meta tags, URLs, meta descriptions and other website content, making it easy for your website to rank high on search engines.
WordPress has more than 600 extensions and 50k plug-ins for easy creation and maintenance of high-functioning eCommerce stores.
When it comes to eCommerce growth and development, data is key. WordPress offers comprehensive analytical tools for easy monitoring of business processes.
eCommerce stores powered by WordPress exhibit high scalability, making them sustainable inthe long run.
Customer-centric themes, perfect for attracting potential consumers.
Multiple payment gateways like Amazon Pay, Authorize.net, PayPal, etc.
A powerful community to identify and eradicate issues and provide regular updates
Multi-lingual support with 60 different languages using various plug-ins
Now that we've established the significance of WordPress, let's get the different options for hiring the best WordPress developers.
Communication Crafts: End-to-end WordPress Development Services
Communication Crafts (CC) is a trusted and experience-led website development agency. We implement a productive mix of innovation and the latest technologies to provide end-to-end WordPress development solutions under one roof. We leverage customer-centric web designs for high-quality WordPress development services that span many industries like food & drink, banking & finance,eCommerce, entertainment,health & fitness, photography, eLearning, logistics, and more.
Our WordPress development services help you better connect with your current audience, entice potential consumers, maximise ROI and conversion rates.
Hire versatile web development teams from CC:
We offer dedicated web developers for the following categories
Build your online store with CC in 3 steps
WordPress development team selection and resource allocation
eCommerce store design and development process with active feedback
Delivery and post-development support/maintenance
Flexible hiring models by CC
For further queries about WordPress and eCommerce development, feel free to contact us.
Our eCommerce development experts are here at your service.
Starting your online retail business is just one click away!
Looking for bespoke eCommerce development?
We've got you covered.