The constantly competitive world of mobile application thrives on providing seamless, interactive, and engaging experience on mobile. Getting an edge and standing out of the competition is now more important than ever, especially when 100's of new applications are added on app stores every day! A well-developed mobile app can fundamentally enhance the business operations carried out throughout processes. However, it's of no surprise that creating a mobile app can be an intimidating experience, especially when you aren't equipped with the technical aspects. There might be hurdles such as high potential costs, complicated project management, time consuming and costly, but these cons fall short on the potential pros offered by developing the right mobile application.
Benefits of a mobile application
· Enhances consumer engagement
· Increases revenue through new leads and conversions
· Builds a community
· Impacts brand awareness
Define your applications goal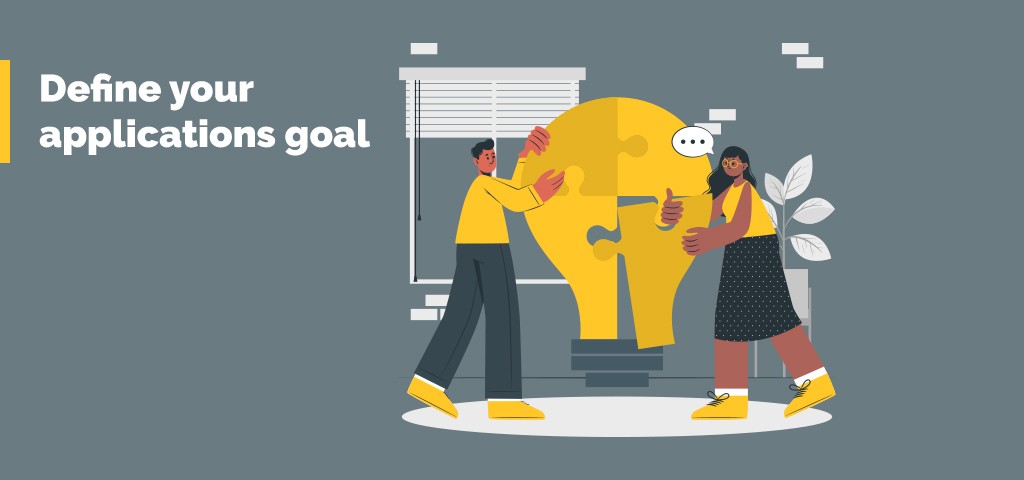 Before creating an application, the defined outcome should be clarified. The sole purpose of making an application should be thoroughly established- which would in turn result in a seamless planning process. The end result is likely to be ideal if the processes are defined from the very beginning.
Here are some criteria which should be established before jumping onto the next step:
-Satisfy Business Goals
-Analyze user's needs
-User habits Analysis
-Room for improvement
-Potential results
Fix functionality and features
Upon deciding the key aim of the mobile application, it's time to define the application's scope of work. The brainstorming part takes place more in this phase, as the important features and functionalities are outlined. Here's where you can include eCommerce, chatbots, push notifications, etc. The goal is to integrate features that bring value to the application.
Analyze competitors
Now that everything regarding how to create an app is established, the time calls for a competitor's analysis. The focus should be distributed equally throughout local and global markets- which will enable new ideas and recognizing gaps in the existing market. A quick look at features, layout, functionalities, and key points should be made a note of.
Design wireframes
Defined objectives, features, and layouts need to make in a visual guide which represents your application's flow. The idea of a wireframe is to bridge the gap between idea and execution while enabling a smooth flowing process. The wireframe is the skeletal structure of your application, thus its impetrative to design it rightly! Accuracy in wireframing leads to saving hundreds of hours in the development phase.
Here's what you can do!
· Create multiple options of screen flows to choose from
· Optimize the order of screens
· Create online and offline versions of wire frames
Test app wireframes
After the creation of wire frames, it's time to test out the visual representation in its context to user experience. Compare the user expectations with the wire frames to prevent further chaos or grievances. Online tools are widely available to simulate the actual experience of your application. Get a team and get testing!
Refine and fine tune application
After gather sufficient data and feedback, sort the feedback according to its similarities. The implementation of changes, troubleshooting etc will be made easier with accurately noted points of correction. Keep testing and changing until there is a satisfied output and zero feedbacks.
Choose an app development path
After going through the rigorous process of establishing important aspects of your application, the main step is to build the application- even better, hire someone to build it!
Factors that affect this decision
· Budget
· Time constraints
· Location
· Knowledge regarding application building
· Availability of resources
Communication Crafts has over 15 years of experience in leveraging top notch services across the globe. Being a leading mobile application development company, our team of experts ensure scalable and step-wise support to build an app. From the development to the testing of the wireframes to the post-launch support, our mobile app development teams provide constant support. With a strong team of world class developers, Communication Crafts delivers high performing mobile applications with rich user experience- suitable for all platforms. From cross-platform development services to android app development services- we elevate your development experience. Get ahead of the competition with an edge provided by our development services. Availing the latest and the most cutting-edge technological solutions, our award winning mobile application Development agency provides you with high functioning application, guaranteeing excellent user experience