eCommerce is undoubtedly the future of retail, and UX design is a significant part of building a customer-centric eCommerce store.
The digitalization of businesses began in the early 2000s, but the onset of covid-19 has accelerated the demand for online products considerably. Consumer demands and expectations are at an all-time high, and brands have to continuously figure out new and improved ways to serve their online audience.
There are around 12 million – 24 million eCommerce websites around the globe. The eCommerce industry is expected to reach more than $100 billion by 2025.
UX Design is an opportunity to create a long-lasting impression for an eCommerce website. The eCommerce user experience has a direct effect on the website's bounce rate and consumers' purchase decisions.
As a leading eCommerce website design company, in this blog, our UX design experts have gathered the essential tips and best practices to build a perfect eCommerce User Experience.
But before that, let's understand what is UX Design…
What is UX Design?
UX Design is often confused with UI Design.
UX stands for User Experience
UI stands for User Interface
The elements of the client-side interface of a website or mobile application constitute the user interface. And User experience defines the actual feel of the platform.
Therefore the UI has a significant impact on user experience, but the UI elements alone don't define the UX. The interactivity, navigation and functionality of the UI elements determine the quality of UX.
To elucidate in layman terms, UI design is the look of the website or app and UX design defines how it actually works.
Don Norman coined the term "User Experience" and in his words:
"No product is an island. A product is more than a product. It is a cohesive, integrated set of experiences. Think through all of the stages of a product or service – from initial intentions through final reflections, from the first usage to help, service, and maintenance. Make them all work together seamlessly."
Now let's take it a step further and discuss the following.
Why is the eCommerce UX Design Crucial for your Business?
Any top-tier eCommerce website development company would know that improving the eCommerce User Experience impacts many parts of your eCommerce ecosystem. The advantages go further than simply increasing sales and revenue.
An enhanced eCommerce user experience provides…
Improved customer service
Reduced customer acquisition cost
Increased word-of-mouth referrals
Enhanced customer satisfaction and retention
Increased brand awareness and recognition
Increased online visibility
And ultimately, increased conversion rate, ROI and an impactful online presence.
What are the eCommerce UX elements?
User Interface
Homepage
Navigation
Search and Catalogs
Filters
Product Page
Signup and Checkout
Accessibility
Tips and Best Practices for eCommerce UX Design
Here are some of the essential tips, tricks and eCommerce best practices to build a high-functioning, revenue grabbing and customer-centric eCommerce website or application:
1. Top-Quality Product Photos & Videos
In an eCommerce store or online shop, consumers don't have the option to experience the product in real life. That's why they entirely rely on product photos and videos.
It is vital for modern e-commerce UX design to include photos and videos of the best quality. The better the representation, the more users gravitate towards your online store. This includes high-resolution images, 360-degree views, 3D models, and high-quality videos.
Pixelated or low-quality photos/videos are criticized, the consumers' overall online retail experience is spoiled and they make your brand seem lazy or careless. Unsatisfactory product representation leads to a high bounce rate, decreasing customer retention and ultimately deteriorating brand image.
Another thing that's becoming the new norm is the ability to zoom photos. The main idea is to have a satisfactory level of zoom to let users get all the necessary information.
Also, Augmented Reality is making huge strides in improving online product representation. Trying on products is the biggest advantage of offline shopping over online stores, but AR solves this issue. Brands can integrate AR technology to enable their consumers to try on products using their phone cameras.
Example of a high-quality product photo by H&M: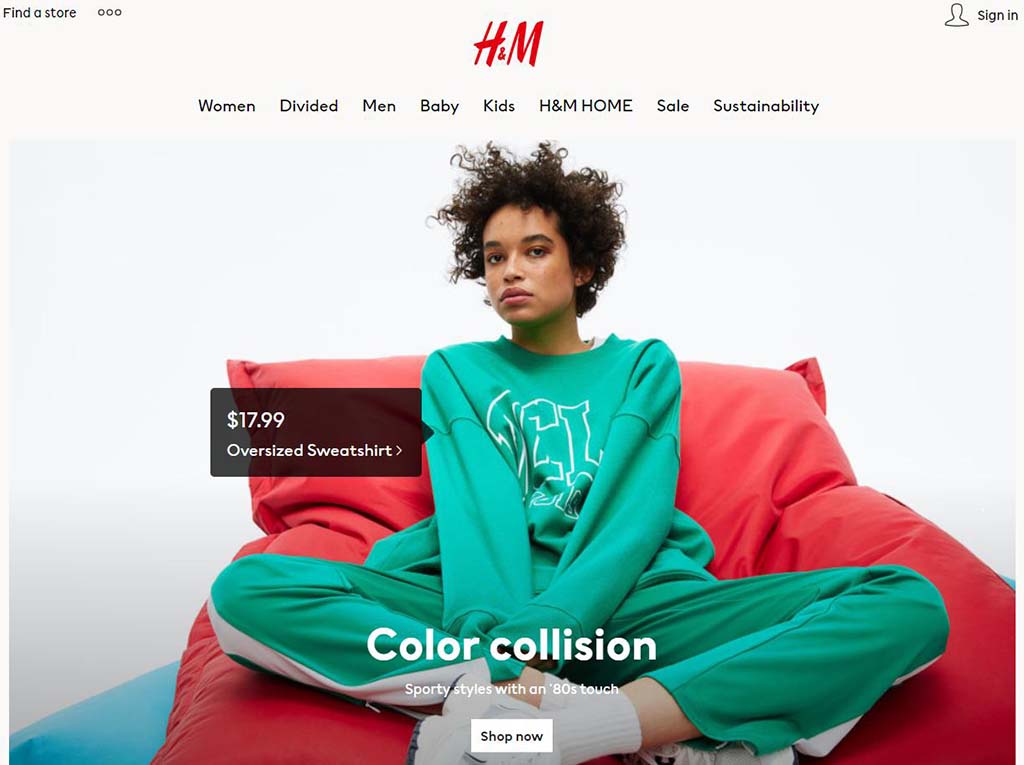 2. Seamless Navigation
Your eCommerce UX design must facilitate seamless and easy navigation throughout your eCommerce website or app. In a physical store, customers have to walk around to browse products, but the major benefit of online stores is that consumers can access a plethora of products just by tapping, clicking or scrolling on a screen.
Every aspect of an eCommerce UX design should be logical and flow from one point to another with ease, facilitating an easy structure and navigation through the pages. For example, simple navigation works like this: homepage – menu — product page — cart — payment and back.
To achieve this, the eCommerce UX designer should develop user journey maps and test various options to choose the best-suited ones.
Some of the impactful UX navigation elements:
The brand logo should lead to the homepage and always stay visible, no matter how further into the website a user goes.
The catalogue helps users switch to the correct category of products and find what they need quickly and precisely.
Breadcrumbs allow users to return to previously selected positions on the website.
Filtering allows excluding undesirable items from massive search results and leads consumers from the homepage to the desired product page.
The search bar lets users quickly find a particular item or category. It should be prominent and accessible at all times.
Clear visual hierarchy further simplifies the user's journey through your eCommerce website or app.
Also, Artificial Intelligence and Machine Learning can enhance the consumers' online retail journey through an eCommerce website or app. AI-powered algorithms can help a brand understand their consumer's behaviour, likes and dislikes to deliver personalized product suggestions and content.
Example of Patek Philippe website with prominent brand logo, search bar, catalogue and visual hierarchy:
3. Consistent Brand Identity
An eCommerce UX design should blend with the products, reflect them, mirror the brand, and exude an authentic feeling for the products. An eCommerce website is a major part of a brand's identity and it's a designer's job to convey the attributes and values they want the products to exhibit.
Consistent brand image and identity across all platforms boost revenue by 23%.
Users remember the branded design. To stand out in the ever-growing digital competition, a unique brand identity is mandatory. The concept of corporate identity includes a brand logo, slogan, corporate fonts, and colours. Top-tier website UX designers use the same colours, fonts and general design patterns throughout the website to make users recognize and remember the brand.
Consistent brand identity on Tesla website:
4. Reviews, Accolades & Achievements
Posting positive reviews, customer testimonials, accolades and awards is an effective way to gain customer confidence. This includes:
Customer reviews
Awards & Accolades
Mentions in the press
Entertaining information about the company
And so on…
There should be balanced content in the UX design. Many companies shower their websites and apps with social evidence, and sometimes consumers scrutinize self-praising content. Consider the crucial and relevant evidence. Conduct research, study competitors, and understand what the audience likes. Add enough social proof to prove your brand's credibility.
5. Visible & Effective CTAs
An effective CTA should be noticeable, colour contrasted with the rest of the page, and clickable look, a copy should indicate what happens next, and instigate action among consumers.
eCommerce UX designers must provide a sense of urgency in the CTA buttons, and persuade them to take the action but refrain from pushing too hard.
Evoke emotion or enthusiasm with trigger words, use attractive colors, add clever copywriting, and give them a reason to take the required action.
Here's an example of bad CTA VS good CTA: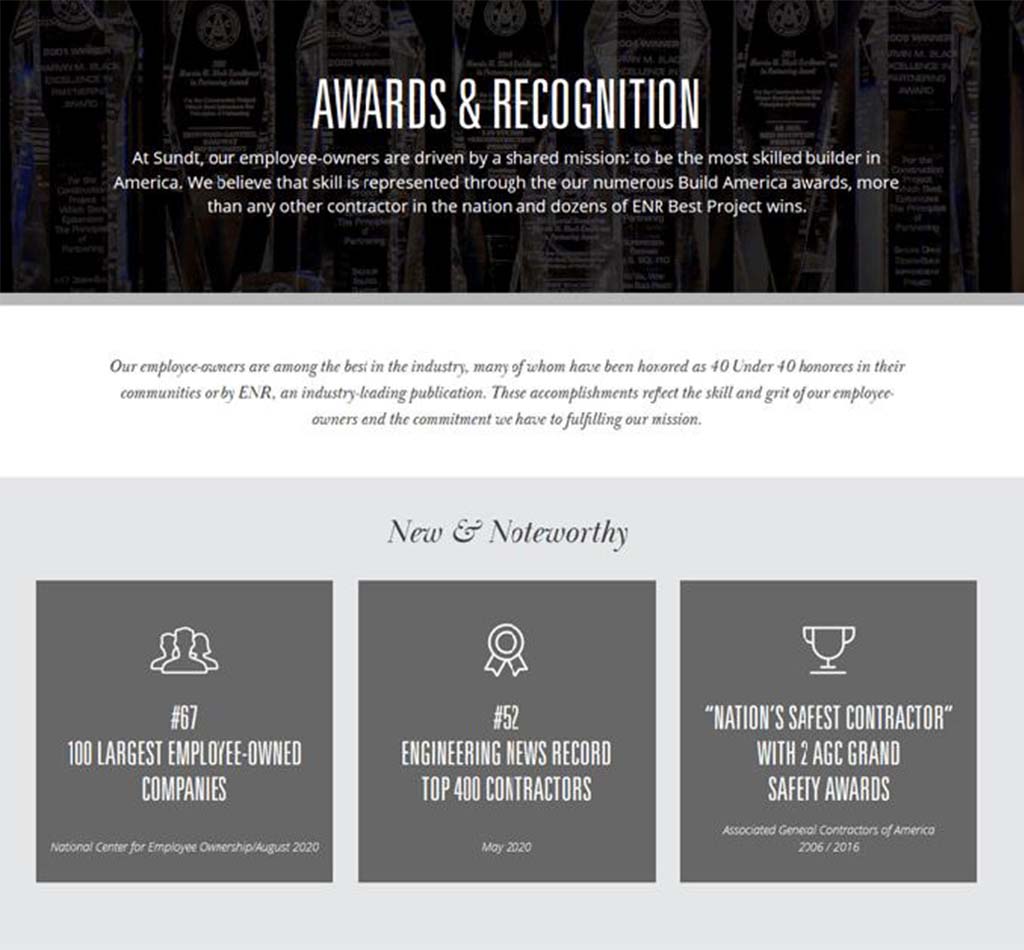 6. Customer Support
Customers will be convinced to make a purchase if your eCommerce UX design facilitates seamless customer support.
Add a contact page with an e-mail, a phone number, and a physical store location
Add a phone number or email address on the homepage
Add links to social media handles
Add an FAQ page
Provide live chats
Live chat: This feature enables 24×7 customer support. AI-powered chatbots can answer generic questions instantly and consumers in their online retail journey. Customer support officials can take charge if the query is too complicated for chatbots. The easiest way to help consumers in their purchase decision is by enabling live chats, aiding customers to find and select the right products, and increasing the average check by offering extra services and products.
7. Simplified Checkout Process
Consumers tend to get annoyed by the overly complex checkout process. They like to be informed in the process and have some control over the experience.
Remove the need to register to make a purchase or implement authorization through social networks. Ask for information that is most necessary only. Remove all distractions from the Checkout page.
Display the stage of payment clearly (cart, payment details, review order, receipt, etc.)
Add prominent breadcrumbs to help them navigate back
Add multiple payment gateways and facilitate multiple currency payments
Add gamification elements like a progress bar
With a progress bar, consumers get to know exactly where they are in the process and how long it'll take to finish. This feature gives them control and provides a smooth checkout flow.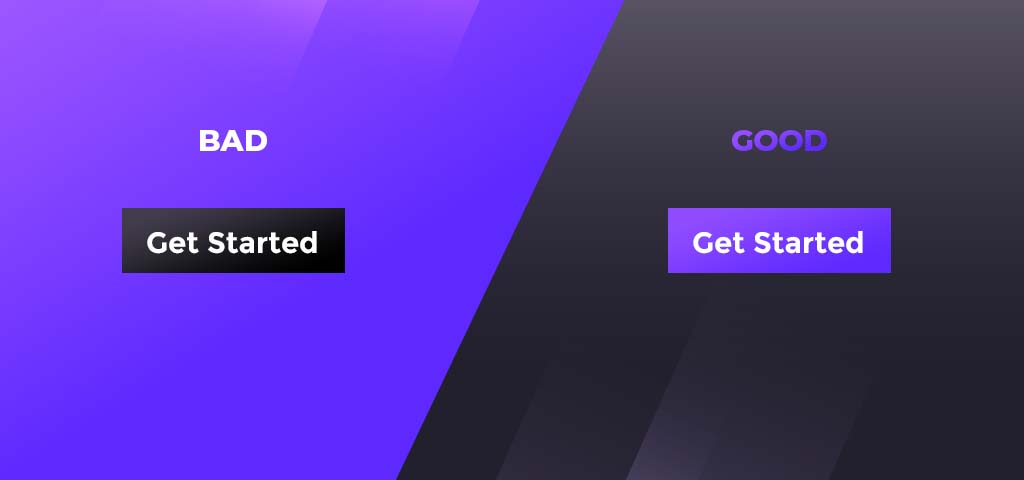 8. Section for Special Offers & Discounts
Many consumers expect heavy discounts and sales when they shop online. Discounted products with time limits can influence even more purchase decisions.
Having a different section just to display discounted products like end-of-season sales can retain existing customers and attract potential ones. This dedicated "discount" section also converts first-time buyers into loyal customers because they expect to see discounted products on your eCommerce shop.
Providing coupon codes for the next purchase in the sale section also leads to return customers because users tend to come back before the coupon expires.
Final Thoughts
eCommerce is here to stay, and that is certain. Businesses will have to evolve and cater to a new segment of audience- online consumers.
The demands of online consumerism are even more volatile than offline shoppers. Brands have to create and deliver impeccable online retail experiences to stay competitive in this ever-increasing digital competition.
From high-quality product photos to effective CTAs, there are many factors to consider when building an impactful eCommerce user experience.
We hope this guide has helped you understand what needs to be done to deliver a perfect eCommerce user experience.
If you have further queries or if you require further assistance with eCommerce development, feel free to contact us.
Communication Crafts is a trusted agency with ISO 27001:2013 certification that provides bespoke eCommerce development services using state-of-the-art technologies like Magento eCommerce and Shopify eCommerce.
We offer eCommerce solutions that unlock your brand's true potential and create a grand online presence.
We welcome you to exploit our expertise.
Looking for bespoke eCommerce development services?
You demand, we deliver!