Fintech apps are making a splash this year. With online financial transactions gaining preference due to its ease of operations, Fintech is the future of banking.
82% of banking organizations are planning to increase FinTech partnerships. This fact isn't even surprising. The blockchain technology FinTech apps uses provides excellent cost-savings and security measures. And this is the reason the FinTech industry will see drastic investment in the coming years.
What is Fintech?
In a nutshell, Fintech is a broad term that represents the fusion of the financial and the technological space to create a mobile banking app that will provide customers with enhanced and seamless financial operations.
With so many types of Fintech apps out there. Here are some of the most popular types:
Types of Fintech apps
A Fintech app helps omit the middleman who charges high 'transaction fees' for carrying out financial services. Thus the user can save more money, along with ease of financial operations.
Here are different types of a Fintech app:
Mobile banking apps– from money transfers, bill payments, invoices, expense trackers.
Finance apps– for stock trading, loans, savings, and financial advice that allow users to generate profits in the stock market.
Payment gateway integration apps– Blockchain & Bitcoin.
With transactions edging more toward digital platforms, there is no doubt that the number of Fintech apps is going to skyrocket in the coming years.
In 2023, here are the best Fintech apps in the market.
7 successful Fintech apps:
1. MoneyLion
With a current $1billion dollar evaluation, MoneyLion is a U.S. based mobile banking app that provides its users with financial advice and quick access to loans. Not bad at all for a relatively new start-up.
This Fintech app makes money from app subscriptions that cost $19.99 per month to each user.
Best features of MoneyLion:
12% cashback rewards on transactions
Live tracking of the credit score
Real-time notifications of transactions
Instant transfer between banks
Save, invest and borrow money from one place
Although there are limited investment options, this is one the best Fintech apps in the market right now.
2. Robinhood
Robinhood is another great start-up based in the U.S. With a current valuation of $7.6 billion dollars, this Fintech app allows users to make smart investment choices.
Best features of Robinhood:
Cash management tools
Real-time market data analysis
Free stock and ETF trading
Instant opening of account on the app
Cutting-edge security measures to protect user data
Support for mobile and web platforms
Integration with more than 3500 banks including Chase, Wells Fargo and Bank of America.
Even though this app has lack of customer support and limited product range, Robinhood is a great Fintech app that provides great value to their customers regarding financial decisions.
3. Mint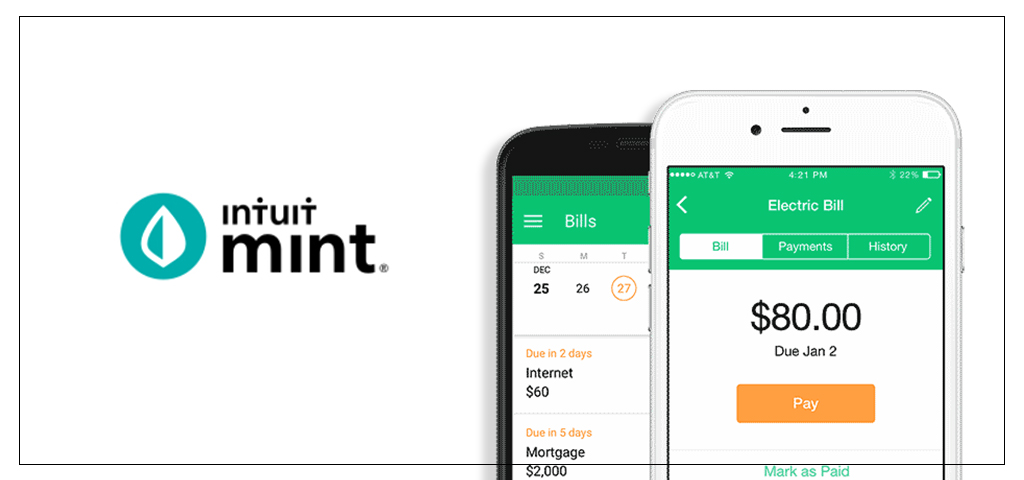 If you were to create a list of start-ups that had so called "overnight success", Mint would have been near the top of the list. With more than 24+ million user base, this Fintech app has beautifully redefined money management. From easily tracking monthly expenses, to keeping track of balances and helping set financial goals- this Fintech app does it all.
Best features of Mint:
Users can customize income and spending categories
Provides accurate net worth of assets
Free credit score analysis
Important notification updates about recurring bills to pay
256-bit data encryption and 128-bit SSL data exchange encryption, makes Mint is a secure platform
This Fintech app doesn't support multiple currencies and the user cannot set several financial targets with one account. Even though Mint falls short in some areas, it is one of the best payment services available in the U.S. market.
4. Chime
Another great example of a Fintech application, Chime– makes life easier for the users by helping manage their finances much better.
Best features of Chime:
No hidden transaction or monthly fees
Supports other mobile payment apps
Friendly customer support
Only charges ATM fees ( access to over 38,000 ATM's across the United States)
Seamlessly helps move money across different banks
Direct deposit of paychecks to Chime gets the money 2 days earlier for the user
Real-time transaction notifications
No-over draft fees (Something not a lot of apps offer)
Although Chime limits the withdrawal or transfer of money from the savings account, the overall user experience it provides is great. Making it one the fastest growing Fintech application.
5. Nubank
Nubank, is a Brazil based Fintech app. With a market value of more than $10 billion dollars & 12 million users, Nubank is one of the largest financial companies in the world.
This Fintech application provides access to invoices and tracks the spending of the user by different categories.
Best features of Nubank:
Rewards program for customers
Simple & intuitive UI
Credits cards are accepted worldwide with no transaction fees
Informative blogs about finances
Nubank does charge a fixed fee for each cash withdrawal. However, the main cause of inconvenience for the users is that the app automatically logs the user out when they switch between apps. But overall, Nubank is a great Fintech app that provides real value to the users.
6. N26
With more than 5 million users across U.S. and Europe and over 65,000 5-star reviews, this Fintech app is paving way for modern day banking.
Best features of N26:
Fast and secure cashless payments
Real-time updates about the account activities
Exclusive discounts and cashbacks from specific brands people love
Instant account opening
No monthly or maintenance charges
N26 doesn't quite hit the mark when it comes to customer support for the app. Nevertheless, it provides great user experience and that's why people love using it!
7. Coinbase
Coinbase app is the largest crypto-currency exchange in the United States. With more than 25 million users across 32 countries worldwide, this Fintech app provides highly secure transactions.
Best features of Coinbase:
Real time investments
It ensures Bitcoin deposits
It provides users with online and mobile wallet services
Investing in currencies by time- daily, weekly, or monthly
Protection against unauthorized frauds using 2FA security measures
The deposits and withdrawals are delayed by three days. But due to the excellent user experience and the unique financial services it provides, people just keep coming back to this app!
Something to keep in mind during the Fintech app development. User experience makes up 50% of the app development process. If you can get the users to keep returning to use the app, your Fintech app is on the road, where there is nothing but success in sight!
Many start-ups and other financial companies realizing this hire the best Fintech developers who also know how to create an intuitive yet engaging UX/UI design for the Fintech app.
If there was ever the right time to build a Fintech app, it is now. Looking for a Fintech app developer? Well, you found the best!
Communication Crafts understand your needs for building a robust and scalable Fintech application. Our team of expert iOS developer, Android developers, Cross-platform developers, UX/UI designers, and QA engineers cater to your app development needs specifically. With the latest Mobile App monitoring systems, our app developers not only gather in-depth analytics of your mobile app's performance after it is launched but also help roll out timely updates to make your app's performance even better. With the best mobile app developers working in our development team, every line of code we write for your mobile app is quality assured. Developing custom-built Fintech mobile apps that provide great customer experience is our forte!
Frequently Asked Questions (FAQs)
1. What is the future of Fintech?
The future of Fintech directly depends upon the blockchain technology- due to the transparency and trust it guarantees for carrying out secure online financial transactions. It has significantly decreased the time needed for making transactions and improving the cash flow. With blockchain tech set to hit $20billion by 2024, Future of Fintech looks bright. With more than 80% of the financial organization wanting to collaborate with Fintech companies within the next 3-5 years, this is the tip of the iceberg, for what the future holds for Fintech.
2. What is a 'Fintech' company and what does it do?
A collaboration of a financial company that uses technology to make financial services more efficient on digital platforms is known as a Fintech company.
Such Fintech companies work to incorporate cutting-edge technology to improve financial transactions on a 'Fintech app'. They work on making the online functionality of various financial transactions even better. With mobile transactions projected to make 88% of all banking transactions by 2022, Fintech companies work to provide seamless solutions for the app that will enhance the customer's experience.
3. Cost to Build a Fintech App?
The time taken to develop a Fintech app depends on the complexity of the features. The cost of fintech app development depends on various aspects such as the platform choice (iOS or Android), features, functionality, integrations, the hourly rate of the developers, and the engagement model developers want to consider.
The more the time, proportional is the cost of the app. A Fintech app with the basic functionalities ranges somewhere around $20000 to $56000 U.S. dollars. While a Fintech app with advanced features may cost you more than $100000 U.S. dollars.
4. Top 5 fintech and banking apps?
Finance has always been a data-rich and innovative sector. No wonder that it inspires the creation of the most advanced solutions! Some of the best Fintech apps in the world as of now are:
1. Mint
2. Revoult
3. Trigger
4. Coinbase
5. Acorns
Hire us and get your Fintech app to work!