Online store creation is as easy as ever!
With the increasing demands of online consumerism, new and improved eCommerce development platforms are constantly emerging.
The eCommerce market was increasing since the beginning of the digital era. The outbreak of covid-19 has motivated businesses to invest in online stores, resulting in a jaw-dropping rise of the global eCommerce market.
Image Source: Smartinsights
Presently, two of the most trusted and leading eCommerce development platforms are Shopify and WooCommerce.
Business owners need to gain a much deeper understanding of WooCommerce and Shopify to meet their desired eCommerce development goals.
In this blog, we'll go over a detailed comparison between two of the best eCommerce development platforms, Shopify VS WooCommerce, and help you make the best decisions for your eCommerce business.
Let's begin…
WooCommerce VS Shopify Definitions
Let's start with a simple explanation to answer the questions "What is WooCommerce?" and "What is Shopify?"
What is WooCommerce?
WooCommerce is an open-source and free eCommerce development platform. It is a prominent plug-in from WordPress which is specifically used for developing eCommerce websites or feature-rich online shops.
Initially released in 2003 by Matt Mullenweg and Mike Little, WooCommerce is written in PHP programming languages along with MySQL and MariaDB databases. Its main features comprise plugin architecture and different themes, which acts as a template system for your online WooCommerce shop.
What is Shopify?
Shopify is a closed-source hosted eCommerce development platform that lets you build full-fledged online stores without any technical expertise, handling every aspect of a website like domain, security, hosting, etc.
Founded in 2006 by Scott Lake and Tobias Lutke, Shopify charges a monthly fee to facilitate eCommerce businesses with a plethora of features helpful for eCommerce beginners and experts alike.
All you need to do is purchase the Shopify package to start your own online retail business.
Here's an insightful video highlighting the differences between Shopify and WooCommerce by "Tooltester"
WooCommerce VS Shopify Market Share
BuiltWith data for Shopify VS WooCommerce in terms of usage:
WooCommerce has more than 3.4 million live websites globally.
Shopify has more than 3.2 million live websites globally.
eCommerce websites usage distribution in the top 1 million websites: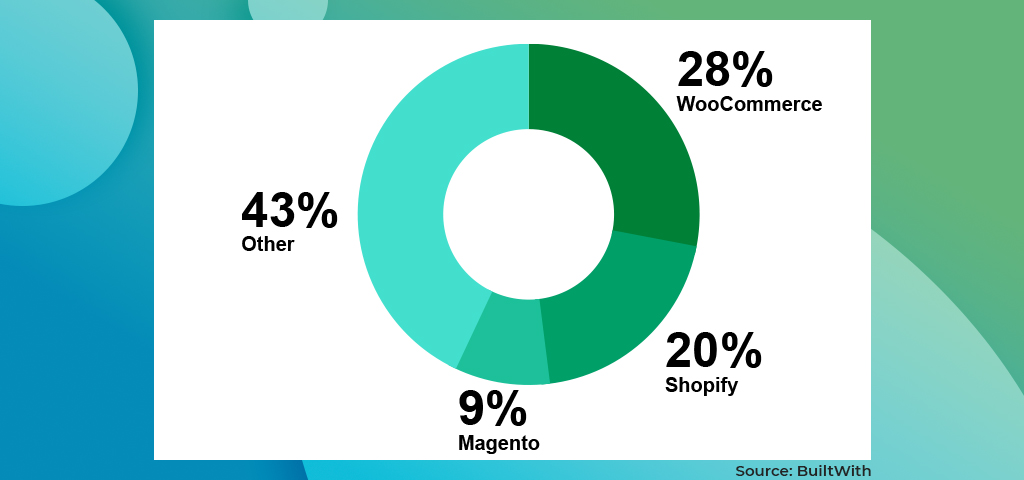 Out of the 307k top 1million websites, 28% is powered by WooCommerce and 20% by Shopify.
This data represented by BuiltWith gives us a clear picture of the market share comparison between Shopify VS WooCommerce, the top 2 eCommerce development platforms. WooCommerce leads the overall market share race, however, it is followed by Shopify very closely.
When it comes to eCommerce development, it is abundantly clear that WooCommerce and Shopify are the first options for web designers and web developers around the globe.
Now that we have established the significance of Shopify VS WooCommerce, let's compare and contrast their main aspects.
WooCommerce VS Shopify Pricing
WooCommerce Pricing:
WooCommerce is the best option for small and growing businesses as it has no initial downloading fee. WooCommerce is a completely free and open-source eCommerce development platform.
The open-sourced nature offers WooCommerce developers with maximum freedom and flexibility to customize the codebase however they want. This feature unlocks the door to a large community of developers to contribute and discuss eCommerce website scaling and management.
Although WooCommerce is free of cost, it still requires payment for a domain name and hosting. Additionally, more payments are required to unlock different themes, plug-ins, and extensions while using WooCommerce.
Shopify Pricing:
Shopify offers complete solutions with month-based or annual package deals, eliminating the extra payments for hosting and domain names. These packages are a one-stop shop for building full-fledged eCommerce stores.
Here's the payment structure for Shopify:
Basic Shopify is ideal for starting businesses with a monthly charge of $29;
Shopify Lite is the cheapest option at the price of just $7 per month with limited scalability;
Shopify monthly plan worth $79 is best for growing businesses;
With a cost of $299 per month, Advanced Shopify unlocks more features and functionalities for mid-sized to enterprise-grade eCommerce businesses;
Shopify Plus is a high-end option for large-scale and enterprise-grade eCommerce businesses. This monthly plan of $2000 provides many additional features like automation tools (Shopify flow), multiple payment options for various currencies, high-level security features, a dashboard for store management, analytics and more.
WooCommerce seems like the cheaper option between Shopify VS WooCommerce pricing. Nevertheless, operating and maintaining a full-fledged WooCommerce website costs almost the same as Shopify.
WooCommerce VS Shopify Ease of Use
WooCommerce Ease of Use:
You need to manage some things individually while using WooCommerce. Installation, updates, backups, hosting, security, and maintenance needs to be handled on the users' end because WooCommerce is not a hosted platform.
5 easy steps for setting up an online WooCommerce shop:
Purchase a Domain Name
Get a Hosting Account
Install WordPress
Select and install a theme
Install WooCommerce plug-in
After activating WooCommerce, you need to complete a few additional steps on your on-screen setup wizard to start running your eCommerce store.
Shopify Ease of Use:
The in-built and almost all-inclusive online store is one of the main benefits of Shopify. Setting up and managing online stores on Shopify is extremely easy due to its seamless and efficient user interface.
Setting up with Shopify is as easy as one-to-three.
Sign up on Shopify.com,
Follow the set-up instructions,
Start running your eCommerce store.
Shopify exhibits maximum usability as it requires no coding or technical expertise.
In terms of usability, Shopify wins the round. WooCommerce caters to skilled web developers, while Shopify is designed for everyone.
WooCommerce VS Shopify Design, Themes & Templates
WooCommerce has a plethora of themes and designs to choose from, as attractive and appealing templates for all industry types. The designs are completely customizable as it is open-sourced, giving you the flexibility to modify and edit the default templates and designs.
WooCommerce Themes example:
Shopify has lesser options when compared to WooCommerce, yet it offers many variations of enticing and user-friendly themes. Shopify themes can also be modified like WooCommerce with a theme editor addon.
Shopify Themes example:
WooCommerce VS Shopify Inventory Management
WooCommerce offers a lot of freedom in inventory management as well. Users can build inventory reports and edit the product descriptions and attributes. Third-party apps can also be inserted for optimum results.
The opportunities and variations available in WooCommerce inventory is truly limitless.
Inventory management of Shopify is quite similar to WooCommerce, providing complete control to the users over the management and tracking of products. Shopify inventory management allows you to track inventory, revenue reports, get re-stocking alerts, purchase order automation and more. You can also add item information, orders, customer data, and other information regarding your business. Many third-party inventory apps can also be used with Shopify to run day-to-day business operations with ease.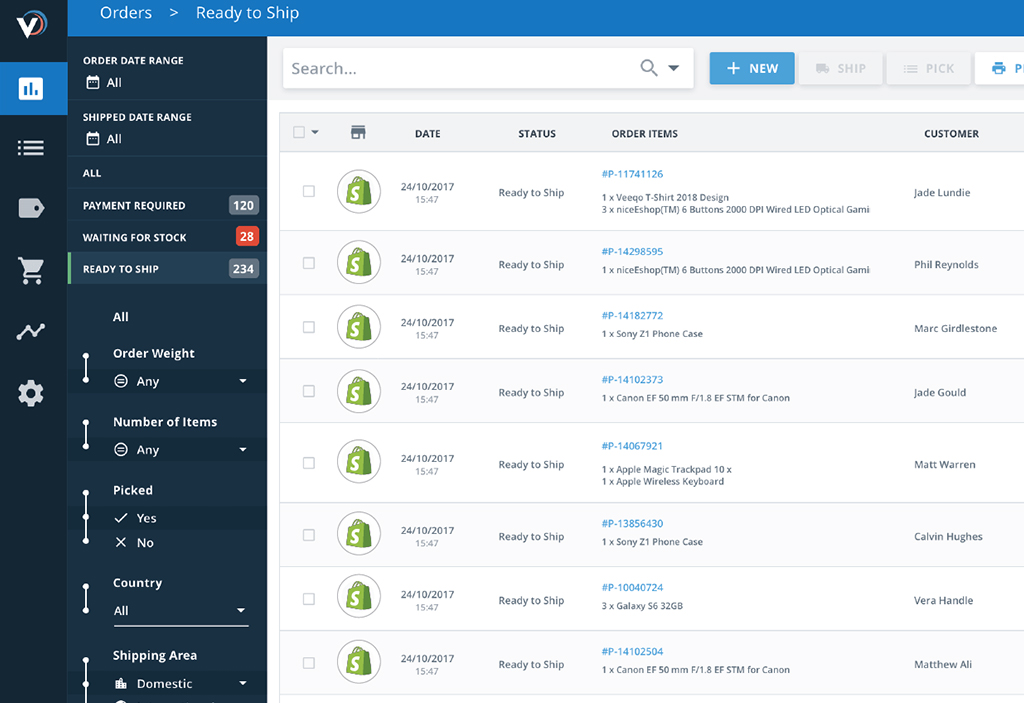 WooCommerce VS Shopify SEO
Shopify VS WooCommerce SEO or Search Engine Optimization ability is a significant aspect for eCommerce businesses. SEO-centric features help your website rank higher on SERPs like Google, which boosts online visibility and brand awareness.
Let's examine Shopify VS WooCommerce SEO:
SEO is a core advantage for WooCommerce. You can apply the WooCommerce editor to edit and optimize website content, URLs, redirections, meta descriptions, meta tags, and other website aspects to boost your digital store to a higher rank on SERPs (Search Engine Results Page).
WooCommerce also allows the use of various SEO plug-ins to optimize your online store, Yoast SEO is one of the most-used SEO plug-ins.
Contrarily, Shopify has limited resources for SEO purposes. It has a rigid URL structure, making it difficult for users to edit or optimize URLs. Additionally, it is not ideal for building sub-categories.
However, Shopify provides enough features to optimize content for eCommerce purposes, straightforward SEO apps are available for Shopify as well.
WooCommerce VS Shopify Apps, Plug-Ins & Extensions
Even all-inclusive eCommerce development platforms need additional apps, plug-ins and extensions to ameliorate the online retail experiences. For example, tools for generating leads, analytics, marketing, shipping, payments, etc.
Shopify VS WooCommerce, both platforms offer a collection of additional tools. Let's discuss.
WooCommerce Tools:
WooCommerce offers more than 50,000 plug-ins and 600 extensions to serve many categories. This feature helps you run your eCommerce store with ease, delivering outstanding user experiences at the same time.
Shopify Tools:
Shopify offers more than 2,400 apps and nearly 4,000 plug-ins in its in-built app store. From inventory management to shipping, there is a plug-in, app or extension to serve every purpose. This feature aids you in monitoring your eCommerce business's growth and attract more traffic simultaneously.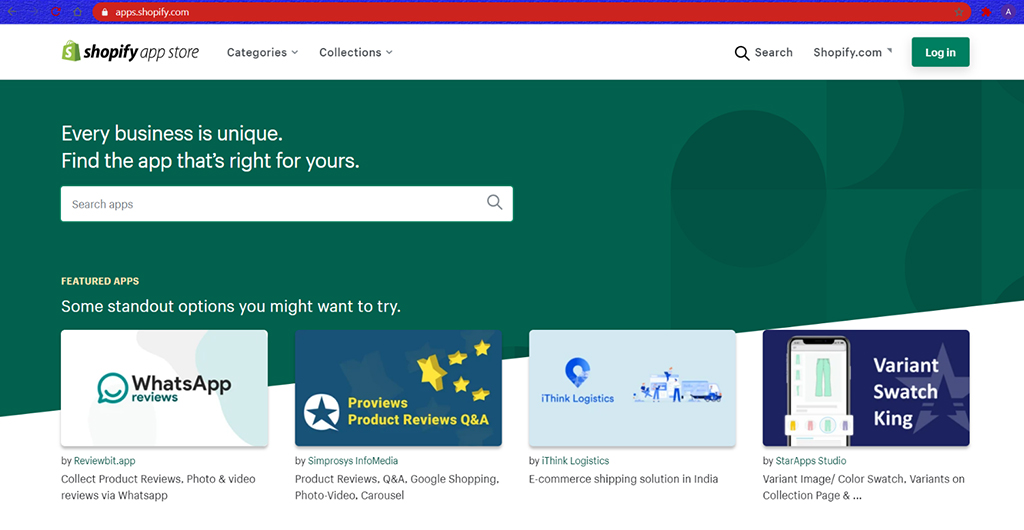 WooCommerce VS Shopify DropShipping
DropShipping is the process of ordering and buying items without the need of a seller with stocked goods. When a purchase is made by an online consumer, the online retailer recieves the product from a supplier and delivers it to the consumer. DropShipping is gaining popularity, making it a growing opportunity for the future.
That's why WooCommerce VS Shopify dropshipping is another major aspect of comparison. Let's discuss.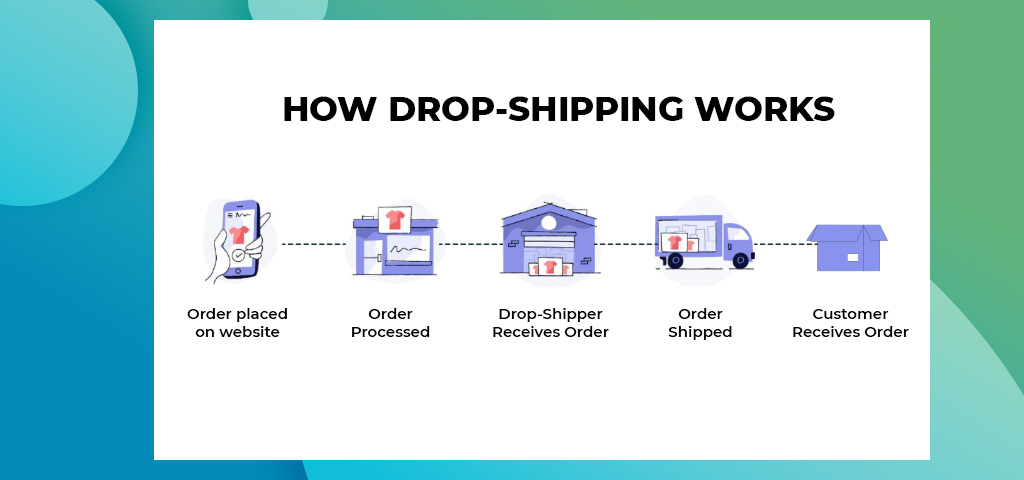 WooCommerce DropShipping:
WooCommerce is amazing for dropshipping companies. Drop shippers can apply different plug-ins that support product imports and fulfil orders from your eCommerce website. With more than 8k active installations, DropshipMe is an efficient solution for dropshipping through WooCommerce.
Shopify DropShipping:
Some apps can be easily integrated with Shopify for the most popular dropshipping markets. Whatever app (Yakkyofy or Printify) you choose for dropshipping through your Shopify online store, the perks of Shopify's featureful environment cannot be overlooked.
Syncee is a B2b dropshipping application with a wide range of dropshipping features for online stores, and it can be applied with both WooCommerce and Shopify.
WooCommerce VS Shopify Security
An eCommerce business cannot operate without reliable security measures. Customer databases, product information, payment information, and other sensitive data must be stored securely. An eCommerce company can suffer a heavy blow to its brand loyalty and credibility with weak security measures.
Let's see who wins the round of security between Shopify VS WooCommerce
WooCommerce Security:
The user is responsible for the security features while using WooCommerce. WooCommerce eCommerce development needs you to get website security plug-ins, SSL certificate, PCI compliant, 2-factor authentication and other security measures for a safe and reliable online retail experience. Also, the open-source nature of WooCommerce makes it all the more increases your website's vulnerability.
Shopify Security:
Shopify is an all-in-one eCommerce store, providing enough updates and security features in-built. It comes with an SSL certificate and already operates on a PCI-compliant server, encrypting all of the transferred data between server and client and providing safe payment options.
Between Shopify VS WooCommerce for eCommerce, Shopify is a much more secure option for eCommerce website development with in-built security features.
Now that we have discussed the main difference between Shopify and WooCommerce, let's examine further and discuss the pros and cons of Shopify VS WooCommerce.
WooCommerce VS Shopify Advantages
Benefits of WooCommerce
Free to use and download, making it amazing for new businesses and start-ups;
Open-source nature provides 100% customizations, letting the developers tweak the codebase with ease.
A collection of useful plug-ins and extensions for simplifying various tasks;
Mobile-friendly themes and designs are also available;
A flexible inventory management system;
SEO-centric plug-ins that let you optimise HTML links, meta tags, meta descriptions and other website content;
Multiple currency support and flexible payment gateways.
Benefits of Shopify
Appealing and mobile-friendly themes for a professional look;
In-built security features for the safety of customer data;
In-built App Store for a wide range of plug-ins and extensions;
Personalized Domain that lets you modify your domain site;
Useful analytics for tracking consumer behaviour, customer feedback, inventory, conversions and ROI;
Efficient Customer Service via phone calls, FAQs, emails and chats;
High Scalability to handle sudden surge in traffic and anticipate future plans.
WooCommerce VS Shopify Disadvantages
Drawbacks of WooCommerce
Lacks advanced features for even simpler online store management;
Incessant updates are continuous trouble for eCommerce businesses;
A steep learning curve as you need technical knowledge;
Using a lot of plug-ins can cause performance glitches;
inadequate security features.
Drawbacks of Shopify
A monthly or yearly fee to download and use Shopify;
Limited customizations due to closed source platform;
Difficult to modify website content for SEO purposes;
Poor Content Management System (CMS);
Product categories and filtering are subpar;
Final Thoughts
Shopify VS WooCommerce for eCommerce has been a long-standing debate between web developers and business owners.
It is impossible to announce a sure-shot winner between the two because WooCommerce and Shopify both have their distinct advantages and disadvantages. The final decision entirely depends on your eCommerce development needs.
WooCommerce is a more flexible eCommerce platform with high customization possibilities, while Shopify is an all-in-one eCommerce solution.
Our eCommerce development experts have studied and compared each significant aspect of Shopify VS WooCommerce, and we hope it helps you make better decisions for your eCommerce business.
If you need assistance with eCommerce development, feel free to contact us.
Communication Crafts is a trusted eCommerce development company for the past two decades. Our top-notch Shopify developers and WooCommerce developers analyze your eCommerce goals and target audience to deliver customer-centric and high revenue-generating online stores.
Building your present, for a fruitful future.
Looking for bespoke eCommerce development services?
We've got you covered!