Imagine you're building a house – a beautiful, spacious, and sturdy one that you can be proud of. You wouldn't just hire any contractor off the street to build it, would you? You'd want someone with the skills, experience, and reputation to do the job right.
The same goes for software development. Your software is the digital equivalent of your house – it's your online presence, your business's backbone, and your customers' interface with your brand. A good software development company can build you robust, efficient, and user-friendly software that will help you achieve your business goals and keep your customers satisfied.
A poorly built software can crash, glitch, or even compromise your security. It can lead to lost revenue, lost customers, and lost reputation – all of which can be difficult to recover from.
On the other hand, a good software development company can save you time, money, and headaches by delivering a high-quality product that meets your needs and exceeds your expectations. They can provide you with expertise, guidance, and support throughout the development process and beyond. And they can help you stay ahead of the curve by keeping your software up-to-date and adaptable to changing technologies and market demands.
Start your software development journey today and scale forever
So, how to choose a reliable software company and Never settle for less!
Research, research, research!
Before choosing any software development company, you need to do your research. Start by creating a list of potential companies that you think might be a good fit for your business. Then, do a deep dive into their websites, reviews, social media pages, and case studies to get a sense of their experience, expertise, and reputation.
Check out their portfolio
A software development company's portfolio can give you a good idea of its capabilities and the kind of work they have done in the past. Look for projects that are similar in scope and complexity to your project, and assess whether the company has the skills and experience to deliver quality work.
Consider the company's expertise
Different software development companies specialize in different areas, such as web development, mobile app development, or cloud computing. When choosing a company, make sure they have the expertise and experience in the area you need. For example, if you need a mobile app developed, choose a company that has a proven track record in mobile app development.
Look for communication and collaboration
Software development is a collaborative process, and effective communication is key to success. Look for a company that values communication and collaboration, and has a proven track record of working well with clients.
Evaluate their development process
A good software development company will have a well-defined development process that ensures the timely delivery of quality work. Ask about their development process and make sure it aligns with your expectations and needs.
Check for security
Your software development company will have access to sensitive business information, so security is a critical concern. Look for a company that takes security seriously and has robust measures in place to protect your data.
Assess their customer service
Finally, make sure the software development company you choose has a strong focus on customer service. You want to work with a company that is responsive, transparent, and committed to your success.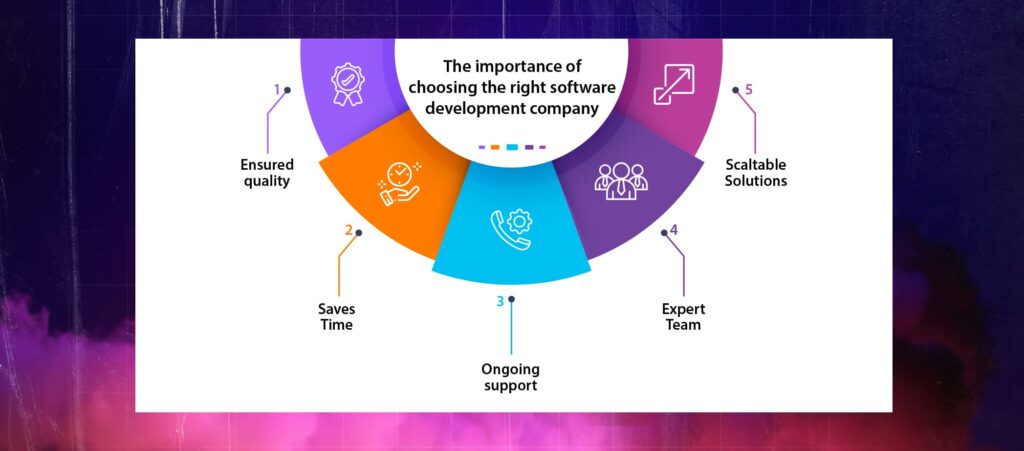 Red flags While Looking for a software development company
There are several red flags to look out for while searching for a software development company:
Lack of experience: If the company has little or no experience in developing software, it could lead to a poorly developed product.
Lack of communication: If the company is not communicative, doesn't respond to your questions, or doesn't provide regular updates, it could be a sign of poor customer service and could lead to communication problems later on.
Lack of portfolio: If the company doesn't have a portfolio or case studies of their previous work, it could be a sign of inexperience or lack of quality work.
No clear process: If the company doesn't have a clear software development process or methodology, it could lead to delays, cost overruns, and poor quality work.
No focus on testing: If the company doesn't have a testing process or doesn't prioritize testing, it could lead to bugs and other issues that could negatively impact your product.
Unrealistic promises: If the company makes unrealistic promises or guarantees, it could be a sign of dishonesty or incompetence.
Lack of transparency: If the company is not transparent about its pricing, deadlines, or other important information, it could lead to surprises later on.
Poor reviews: If the company has a lot of negative reviews or a low rating on review sites, it could be a sign of poor quality work or bad customer service.
Lack of security: If the company doesn't have proper security measures in place to protect your data, it could lead to data breaches and other security issues.
Lack of compatibility: If the company doesn't have experience with the technology or platforms you require, it could lead to compatibility issues with your existing systems or hardware.
Maximize the digital potential of your business
Are you tired of being let down by unreliable software development companies?
Finding a reliable software partner is like finding a needle in a haystack. But don't worry, as we have got you covered.
Let's face it, our industry is rife with nonsense, unnecessary barriers, and break old ways of doing things. Communication Crafts kick that stuff to the curb. It's been 17+ years since we have been helping businesses around the globe to build robust software for their vision.
Our team of experts is dedicated to providing cutting-edge and dependable software solutions that are tailored to each client's specific requirements.
We understand that choosing the right software development company can be a daunting task, but with Communication Crafts, you can rest assured that you are in good hands. We have a proven track record of delivering exceptional software solutions to our clients, and we are confident that we can do the same for you.
Maximize the digital potential of your business