Since the past 4 weeks, almost 3-5 billion people in the world were under a stringent lockdown. Many more are still under lockdown. This has caused a huge shift in the global work habits. Working remotely, more commonly known as Working from Home or WFH is preferred by the masses. Suddenly, virtual tools such as Zoom, Microsoft Teams and Skype have gained massive popularity because of the rising need of working as effectively as working from office. Technology is at the forefront for e-tailers who are ensuring that people continue to get deliveries of groceries, home care and medical supplies from the ease of their home. At the same time, technology, which is serving as the backbone of such businesses is being taken care of by remote software developers in countries like India.
With the staggering developments and unprecedented growth of businesses, developers play a crucial role in the field of information technology. The recent surge in the growth of hiring remote developers can be accounted to the COVID-19 outbreak, but this isn't the first time remote developers have been working at the forefront of the concerned field. For years, Indian developers have been working remotely and delivering solutions throughout the globe.
We at Communication Crafts have highly skilled developers who are equipped with high data bandwidths internet and VPN enabled secure work environments, who are effectively delivering solutions for our clients from the comfort of their homes with high productivity.
There is a 200% growth surge seen in the trends of hiring of remote developers since the past decade, with state of the art technology, abundance of talent and accessibility all being great contributors to this factor.
If you're a company wanting to grow your business online, it's essential that you hire the right developer or the right development agency! Remote working is the new wave; don't miss out on the benefits remote development services bring to the table.
Why should you go remote?
· Availability of highly talented developers – Scale at your will
· A highly secured and tech driven work environment designed as per your need
· Ease of tracking and transparency on productivity
· Hassle-free recruiting, training and grooming of remote candidates
· A cost effective business model
· Flexible business models to choose from – Hire full time or part time
Here are some tips on how to hire remote developers
· Go for a highly rated development company
When you hire resources from a highly rated company, you can be sure of receiving high quality services. Be sure to look at their credentials, portfolio, tech expertise and the clientele before you opt for a company. It's essential to check if they leverage remote working services beforehand. Establishing your expectations during the earlier stages enables an excellent collaboration of efforts. Why not have a look at what our clients say about us. View Reviews
· Do your research of management tools
Once you choose a company, it's essential to check the infrastructure and management tools. Intuitive network, robust connectivity, accessibility and security to the latest technological advances put both the parties ahead of the game and ensure a great working experience. Working with ISO certified companies ensures protection from theft, hacking and any other security threats. Thus, it's important to do thorough research.
· Ensure seamless communication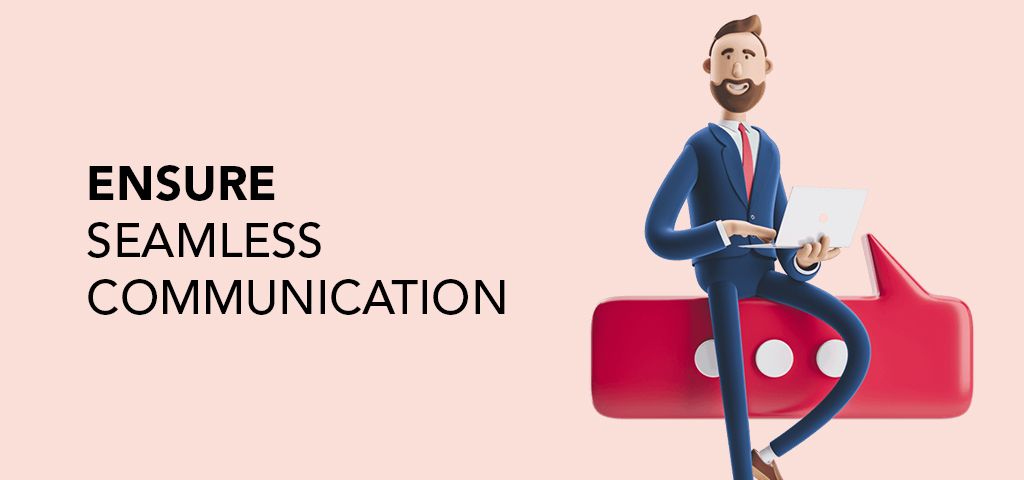 Clear instructions and establishing your goals! A smooth communication chain ensures the collective goal to be established. Explain your goals in depth, your outcome expectations and even the preferred method of communication for both the parties. Many companies let you communicate with the developer that works with your project. Along with that, you also get an Account Manager, making the most out of your investment.
Communication Crafts has a dedicated team of 150+ highly skilled experts, who turn your vision into reality! With excellent infrastructure and a scalable model, you get the highest quality services- just a phone call away! Our team has leveraged innovative solutions throughout the globe. When you work with Communication Crafts, you ensure a secure, safe and reliable working experience, owing to our ISO 27001:2013 certification! This trend of working remotely might have been very recent for the rest of the world, but we have been doing it for over 15 years now. With countless projects in diverse fields, from web development to application development and even video production campaigns for leading companies- we literally do it all! Our portfolio is an impressive showcase of the high end services we deliver seamlessly! Don't settle for low ROI when you can make the most with us!
Looking for a team of best remote developers?
You're in the right place!